Warmer weather always makes me want to bring out the grill. I found this recipe for Pineapple Chicken Bites and couldn't wait to try them. You cook them on skewers; you guessed it, on the grill. Pineapple is one of my favorite fruits to eat and cook with. You use pineapple juice in the marinade for this recipe. These Pineapple Chicken Bites, like a lot of the recipes I make, are really easy to cook, but flavorful. You don't have to be a top chef to make a tasty meal. In fact, this recipe only has four ingredients, and it got rave reviews at my house. Pull out the grill, and try Pineapple Chicken Bites this week.
Did you know that Tyson Foods is the largest poultry and meat processor in the United States? Tyson Foods' headquarters is in Springdale, Ark.
Ingredients
1 cup pineapple juice
½ cup packed brown sugar
1/3 cup soy sauce
2 pounds chicken breast tenderloins cut in one inch bites
Instructions
In a small saucepan over medium heat, mix pineapple juice, brown sugar and soy sauce. Remove from heat just before the mixture comes to a boil. Place chicken in a medium bowl, and cover with the pineapple juice mixture. Refrigerate for at least 30 minutes.
Preheat grill for medium heat. Thread chicken lengthwise on to skewers. Lightly oil the grill grate.
Grill chicken five minutes per side, or until juices run clear.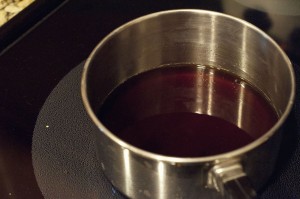 Make sure you don't let this marinade boil.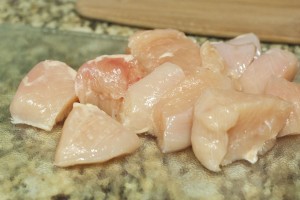 I actually used one large chicken breast and halved the ingredients for the marinade.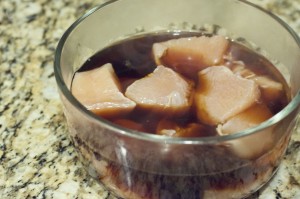 Marinating is key! These chicken bites were juicy and flavorful all because of this step.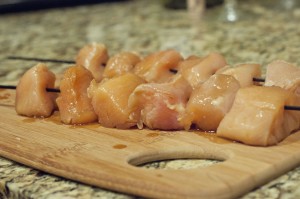 See how all the pieces are really close in size? It is important to get them as close in size as possible, so your skewer will cook evenly.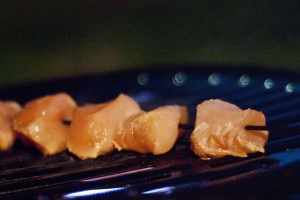 Make sure you lightly oil the grill grate to avoid sticking. The sugars in the marinade caramelize and make it really easy for your skewers to stick.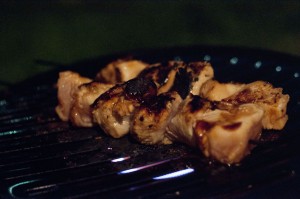 They disappeared before I could get a final picture of them off the grill. Don't they look delicious?