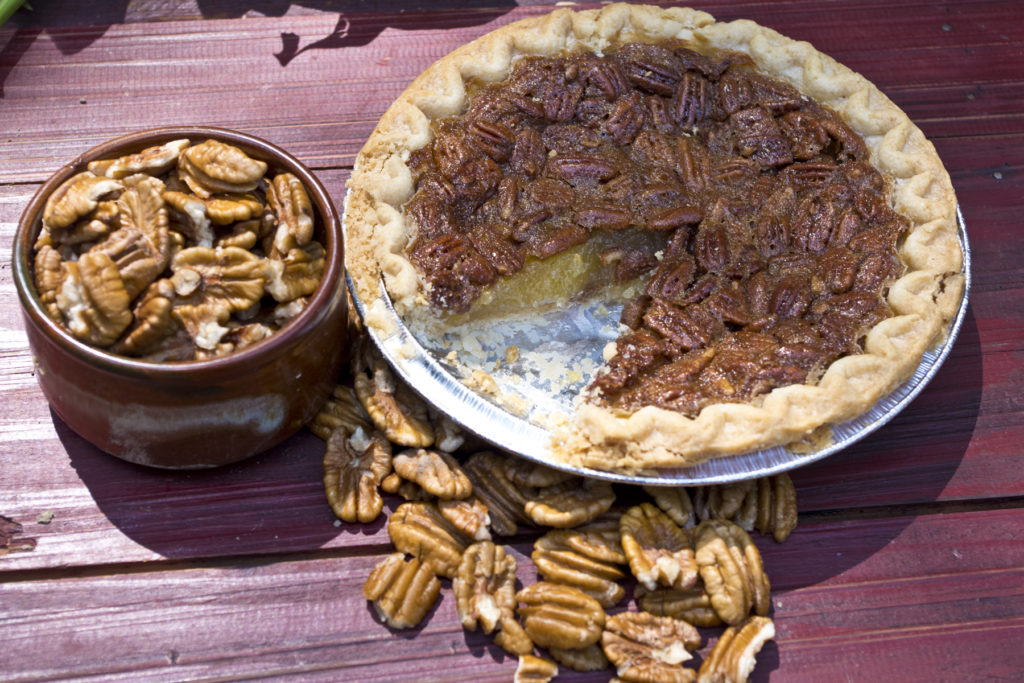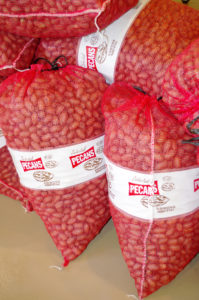 To celebrate this sweet day, we went back through our archives and found one of our favorite pecan pie recipes …
Paw paw's Favorite Pecan Pie – From PawPaw's Pecans/Billy Wilchman

Ingredients
½ cup granulated sugar
1 cup light brown sugar, packed
2 large eggs
1 cup chopped pecans
½ cup (1 stick) butter, melted
2 tablespoons milk
1 tablespoon all-purpose flour
1 ½ teaspoons vanilla extract
One 9-inch deep pie shell, unbaked, or homemade pastry
1 cup pecan halves
Vanilla ice cream or whipped cream
Directions
Preheat oven to 325 degrees F.
In a large mixing bowl, mix the brown sugar, granulated sugar and eggs until creamy. Add the chopped pecans, melted butter, milk, flour and vanilla extract and stir to combine. Pour the mixture into the pie shell. Arrange pecan halves on top of the pie in a circular pattern. Bake the pie for 55 minutes. Check for "done-ness" by shaking the pan slightly. The pie should be firm, with only a slight jiggle in the center. It will set more as it cools. Serve topped with vanilla ice cream or a dollop of whipped cream.
You can purchase some of PawPaw's Pecans by calling Billy Wilchman directly at 501-514-5020 or contacting him through their Facebook page www.facebook.com/pawpawspecans.
If you'd like to know a little more about Billy Wilchman, his business and his unique story, check out this video feature:

Want to try your hand at making more than one pecan pie? Here's another recipe from our Taste Arkansas archives. And, here's a tasty one for Bourbon Pecan Pie courtesy of Garden & Gun magazine.