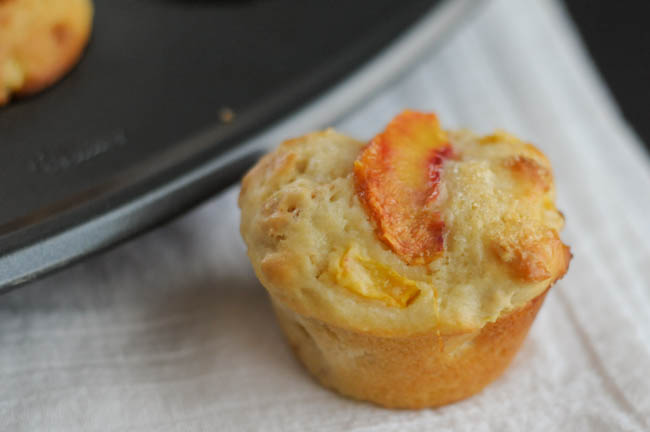 by Heather Disarro of Heather's Dish
We love to enjoy the luscious summer peaches in their purest form as often as possible, but they are extraordinary in baked goods and savory dishes. These sweet Peachy Crunch Muffins are packed with chunky pieces of fresh peach and crunchy little bits of millet for an added textural interest. I also love the slender slice of peach on top, and sprinkled them all with a little raw sugar for extra crunch and sweetness. Let's just say these are no run-of-the-mill weekday muffins. They're practically sunshine straight from your oven.
PEACHY CRUNCH MUFFINS
Makes 12 big, beautiful muffins
Ingredients:
1/2 cup vegetable oil
1-1/2 cups plain nonfat Greek yogurt
1 cup sugar
2 whole eggs
1 tablespoon vanilla extract
3 cups flour, plus 2 tablespoons
1 tablespoon baking powder
1/2 teaspoon baking soda
1/2 teaspoon salt
4 medium peaches, peeled and cut into cubes
1 cup raw millet
1/4 cup raw sugar, for sprinkling (optional)
12 slices fresh peach for garnish (optional)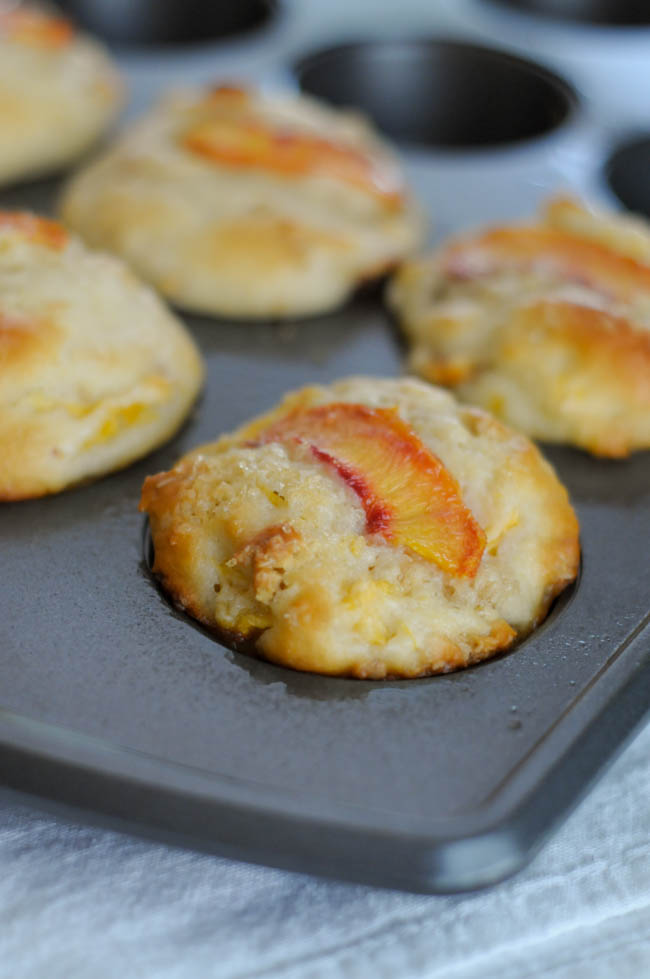 Directions:
Preheat oven to 375.
Spray a muffin tin with nonstick spray and set aside.
In a large bowl, whisk together the oil, yogurt, sugar, eggs and vanilla extract until smooth and creamy and slightly lighter in color.
Sift in the 3 cups of flour, baking powder, baking soda and salt.
Carefully fold in the dry ingredients until almost incorporated, but not quite.
In a smaller bowl toss the fresh peaches and millet with the remaining 2 tablespoons of flour.
Fold the peaches and millet into the batter just until the ingredients are evenly incorporated.
Scoop the batter evenly into prepared muffin tin and gently tap on the counter to release air bubbles.
If using, top each muffin with a slice of peach and then sprinkle with raw sugar.
Bake at 375 for 20-25 minutes until the muffins are golden on top and a toothpick inserted comes out clean.
Allow to cool at least 10 minutes before serving.
Enjoy!
Arkansas Women Blogger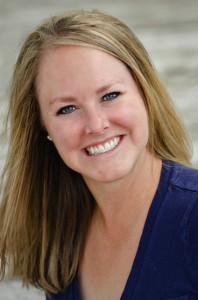 member Heather Disarro is a food-centric lifestyle blogger who is passionate about embracing the beauty that surrounds us in our everyday lives. She is a Texan living the expat life in central Arkansas with her husband, son and two massive dogs. Heather writes her blog, Heather's Dish, from an office filled with dust, dog fur, toys and plenty of love, grace and music. She revels in the opportunity to bring the love of cooking to the world as a way to love others well!