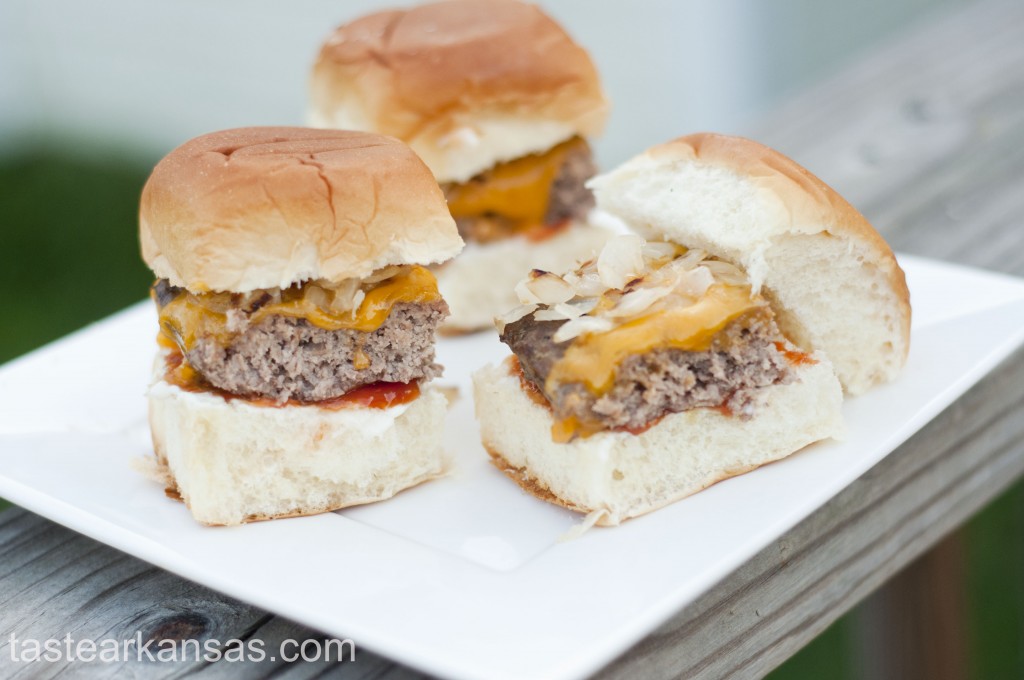 I got the idea for this recipe from a pin on Pinterest. It showed how to make sliders in the oven, and I knew I had to make it with my own spin. These Oven Baked Cheeseburger Sliders are super easy and quick to make for a weeknight meal. They're also really easy for little hands to eat. I like sautéed onions, but if you prefer your sliders with pickles add some of those, too. I also paired my Oven Baked Cheeseburger Sliders with sweet potato fries, but that's a recipe for another time.
Did you know more than 28,000 farms in Arkansas produce beef cattle?
Ingredients
2 pounds ground beef
1 tablespoon Cavender's Greek Seasoning
1 egg
1 cup shredded cheddar cheese
¾ cup chopped onions
2 teaspoons olive oil
1 package 12-count Kings Hawaiian sweet dinner rolls
Instructions
Preheat oven to 400 degrees. In a bowl, combine beef, egg and seasoning. Gently press mixture evenly into a 9 x 13 in pan. Use the tines of a fork to poke holes throughout the meat. Bake for 30 minutes. The meat will shrink away from the sides of the pan and liquid will accumulate around the edges.
Meanwhile, sauté the onions in the olive oil until they begin to become tender and translucent. Remove from the heat and set aside.
Remove the pan of meat from the oven, drain the liquid and top the meat with the cheddar cheese. Return the pan to the oven for about 2 minutes or until the cheese melts. Remove from the oven and let the meat rest for about 5 minutes. Cut into 2-inch squares and serve on bun with the onions and other favorite burger toppings.