Few things go together like Oreos and ice cream. It's a classic combination right up there with peanut butter and jelly. I don't buy Oreos much, only because I can't stay away once I open a package. Usually, the contents don't last more than two days. I found this recipe while surfing the Internet, and just had to try it. Not only is it delicious, but it's cute too. Have kids around this summer? Try this recipe on them. They will love you for it.
 Did you know more than 99 percent of all dairy farms are family owned and operated?
Ingredients:
4 teaspoons chocolate syrup
8 Oreo cookies
1-1/2 cups milk
2 cups vanilla ice cream, softened
Directions:
1. Spoon 1 teaspoon syrup into each of 4 glasses. Roll each glass to coat bottom and inside of glass. Finely chop 4 cookies; set aside.
2. Quarter remaining cookies; place in blender. Add milk and ice cream; blend until smooth.
3. Pour into prepared glasses; top with chopped cookies. Serve immediately.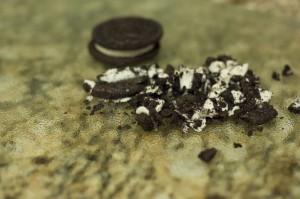 You want your cookies chopped finely like this.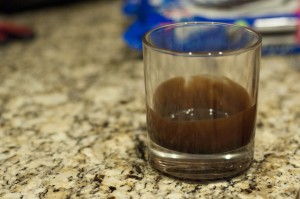 Roll your glass around to coat the bottom with chocolate sauce.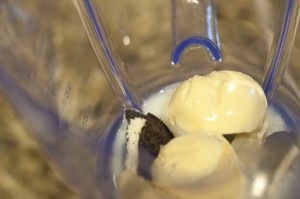 Blend up the ice cream, quartered Oreos and milk.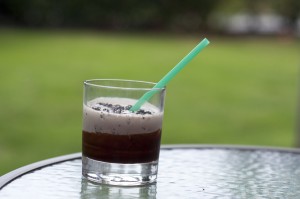 Pour your blended mixture in the glass, and top with the finely chopped Oreos. Doesn't that look pretty?