I guess you would consider it 'made from scratch,' because it requires some mixing of ingredients. But everything you need comes straight off the grocery store shelf.
This is one of those recipes that's so simple but also so good! I make it all the time for birthdays and holiday gatherings. I also make sure to share it with anyone who asks, because that's how I got it. I've made some changes over the years that I'll share with you too.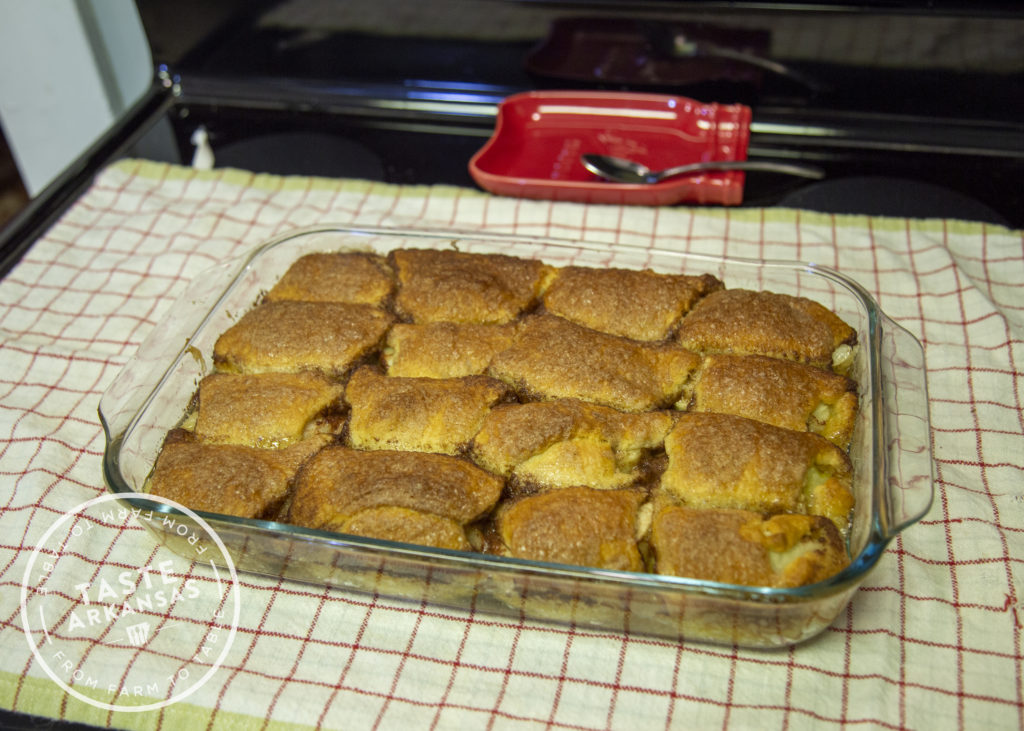 Here's what you'll need:
2 Granny Smith apples – peeled & cored | I recommend LARGE apples for a higher apple to crust ratio
2 (10 oz) cans of Crescent Rolls – Original or Flaky Butter
1 cup butter
1½ cups white sugar | Here's the big secret tip – I only use 1 cup. It's still sweet without that distinct too much sugar-only taste.
1 Teaspoon ground cinnamon
1 (12 oz) can of Mountain Dew | It sounds crazy, but it's a must. I once forgot that and to grease the pan, and it was a mess.
Here's what you do:
Preheat the oven to 350 degrees F. Grease a 9×13 inch baking dish.
Cut each apple into 8 wedges and set aside. Separate the crescent roll dough into triangles. Roll each apple wedge in a crescent roll dough starting at the smallest end. Pinch to seal and place in the baking dish.
Melt butter in a small sauce pan, stir in the sugar and cinnamon. Pour over the apple dumplings. Pour Mountain Dew over the dumplings.
Bake for 35 to 45 minutes or until golden brown. Careful not to over bake, the tops will become harder to cut.
Recipe by someone on the internet. Modifications & photos by Ashley Wallace.