STUFFED PORK LOIN WITH PURPLE RICE
Looking for a special entrée to cook for family or friends in 2019? Look no further than this delicious pork dinner that garnered Rhonda Hull of Little Rock a blue ribbon in the Main Dish category at Arkansas Farm Bureau's 2018 Rice Cooking Competition.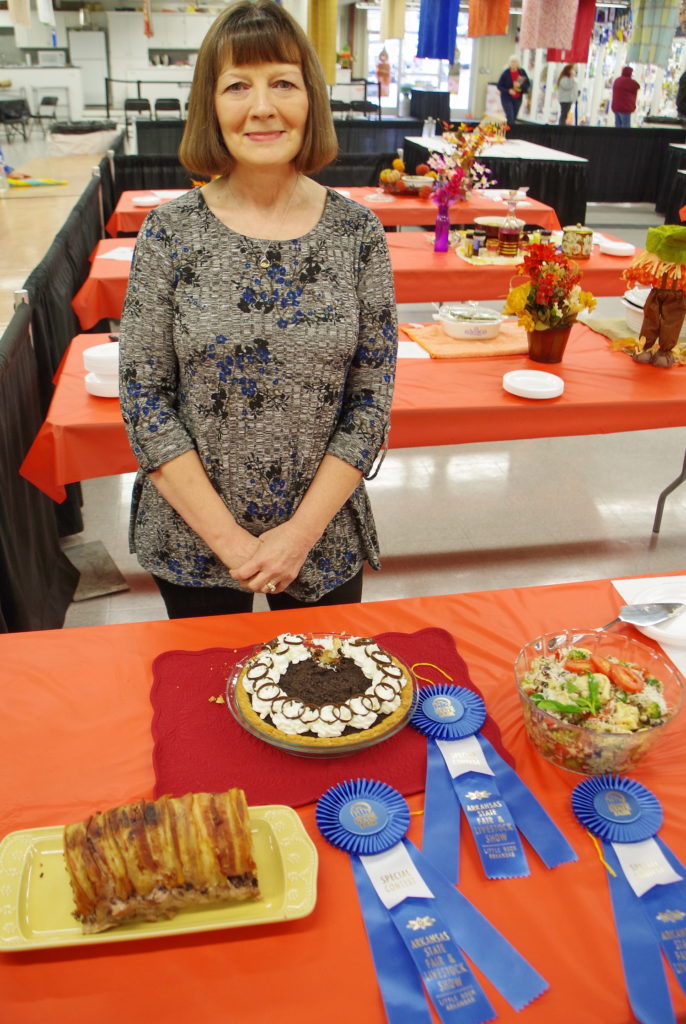 One of the main ingredients is purple rice, which is grown mainly in Asia and has a deep black color that turns purple when cooked. It is slightly chewy and has a nutty flavor. This rice was so revered by the ancient Chinese that only the emperor was allowed to eat it, earning it the nickname "forbidden rice."
You'll want to allow some extra time to prepare the stuffed pork loin, but when complete, it's pleasing to the eye as well as the palate. Those who try it are sure to agree with the Farm Bureau Women's Committee judges who awarded it their highest honor. Bon appétit!
Ingredients: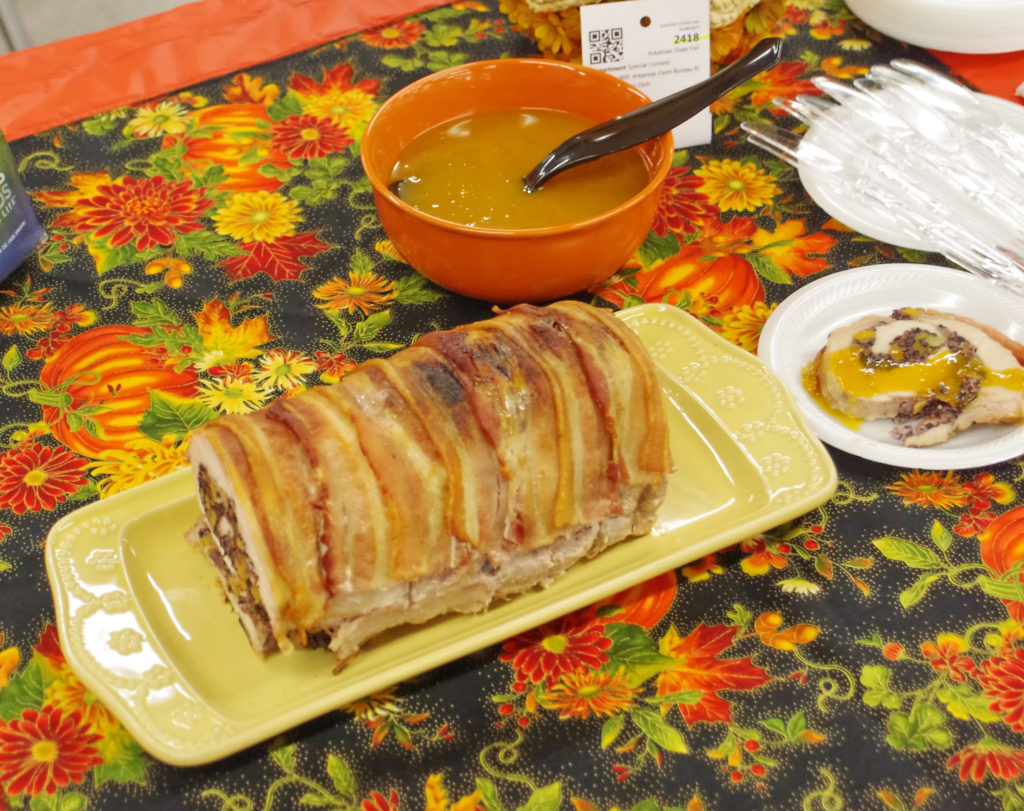 1 cup purple rice
1 ¾ cups chicken stock
2 tablespoons unsalted butter
¾ cup finely chopped white onion
1 cup (4 oz.) chopped toasted walnuts
¼ teaspoon coarse salt
½ teaspoon ground white or black pepper
1 cup chopped dried apricots
2 tablespoons chopped parsley
2 tablespoons chopped fresh chives
2 eggs, beaten together
3-pound boneless pork loin roast, butterflied
2 large cloves garlic, finely chopped
1–2 tablespoons vegetable oil or nonstick cooking spray
Directions:
In a medium saucepan, combine the rice and chicken stock and bring to a boil over high heat. Stir well, reduce the heat to low, then cover and cook for 25 to 35 minutes, until the stock is mostly absorbed. Set aside. Turn off heat and cover for 10 minutes.
When the rice is ready, add it to the walnut mixture, then stir and toss with a fork to combine. Let cool to room temperature stirring occasionally.
Meanwhile, melt the butter over moderate heat in a medium skillet. Add the onion and cook gently, stirring frequently, until softened. Add the walnuts and continue to cook and stir 2-3 minutes longer. Season to taste with salt and pepper, then scrape the mixture into a large bowl.
Add the apricots, parsley, chives and eggs to the rice mixture, then stir briskly until evenly mixed. Set aside.
Lay the pork loin out flat on a work surface Spread it with the garlic, then sprinkle generously with salt and pepper. Spread the cooked rice mixture over the meat then roll the loin up snugly. Using heavy duty string, tie the roast firmly around its circumference in three or four places at 2-inch intervals. If some of the stuffing comes out, just push it back in.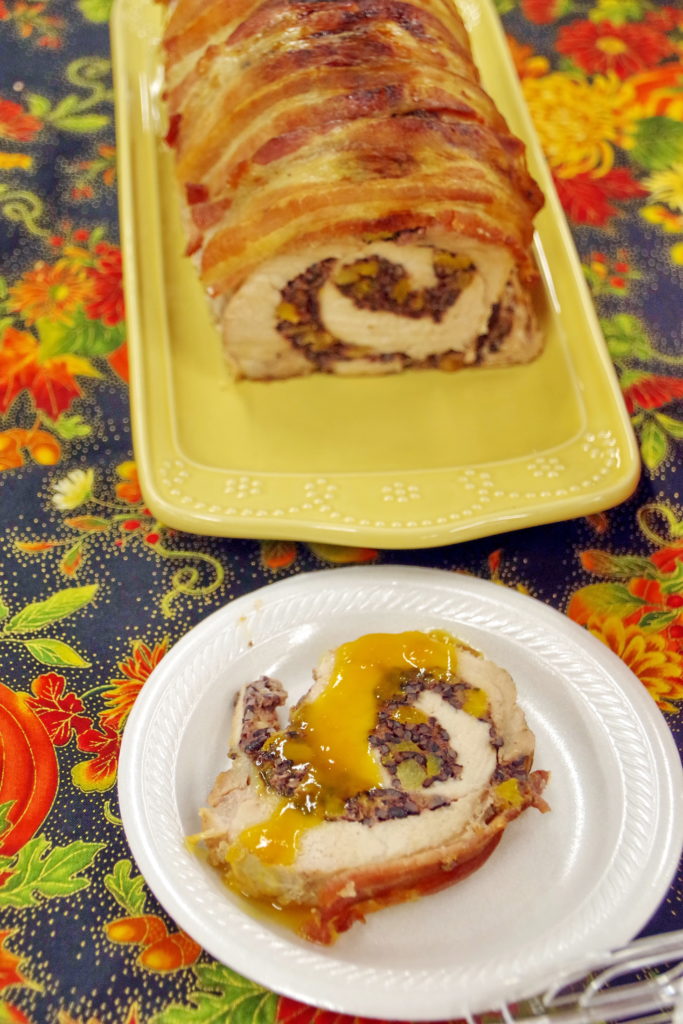 Preheat the oven to 375 degrees. Put the oil in a heavy, oven-proof skillet, or coat the skillet with nonstick cooking spray and place over high heat. Brown the rolled-up roast all over, turning it frequently, for 8 to 10 minutes. Place in the oven and cook until a thermometer inserted into the center reads 160 degrees, about 1 to 1-1/2 hours.
Remove from the oven and let rest for at least 15 minutes. With a long sharp knife, cut crosswise into slices 1/2 to 3/4 inch thick.