Cinnamon-Sugar Blueberry Muffins
by Gregg Patterson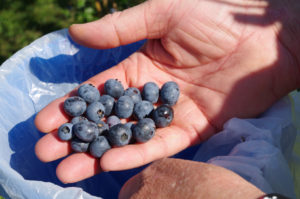 Ingredients
1 stick butter at room temperature
3/4 cup sugar
1 large egg
2 cups all-purpose flour
2 teaspoons baking powder
1/2 teaspoon salt
1/2 cup whole milk, divided
1 teaspoon vanilla extract
1 pint fresh blueberries
1/2 teaspoon ground cinnamon
2 teaspoons Sugar in the Raw natural turbinado sugar
Directions
Preheat oven to 375 degrees. Spray a muffin tin with Baker's Choice to grease each muffin space. In a mixing bowl, cream butter and sugar with an electric mixer, then add egg and finish mixing.
In a separate bowl, mix flour, baking powder and salt. Add half of this dry ingredients mixture to the butter-sugar-egg mixture and stir in 1/4 cup of milk. Combine thoroughly. Repeat the process by stirring in second half of dry ingredients to the mixture along with other 1/4 cup of milk and vanilla extract. Add the blueberries next, gently folding the them into the batter. Fill each muffin space to the top with the blueberry batter mixture.
Separately, mix cinnamon and turbinado sugar together. Then dust the top of each individual muffin batter with the turbinado sugar-cinnamon mixture. Bake for 30 minutes. The coarse turbinado sugar combined with cinnamon gives the muffin tops a slightly crunchy texture along with the flavor of a cinnamon roll and blueberry muffin all rolled into one. Butter on the warmed muffin makes it all the better.