Meet the 2015-2016 Miss Arkansas Rice, Lynnsey Bowling of Woodruff County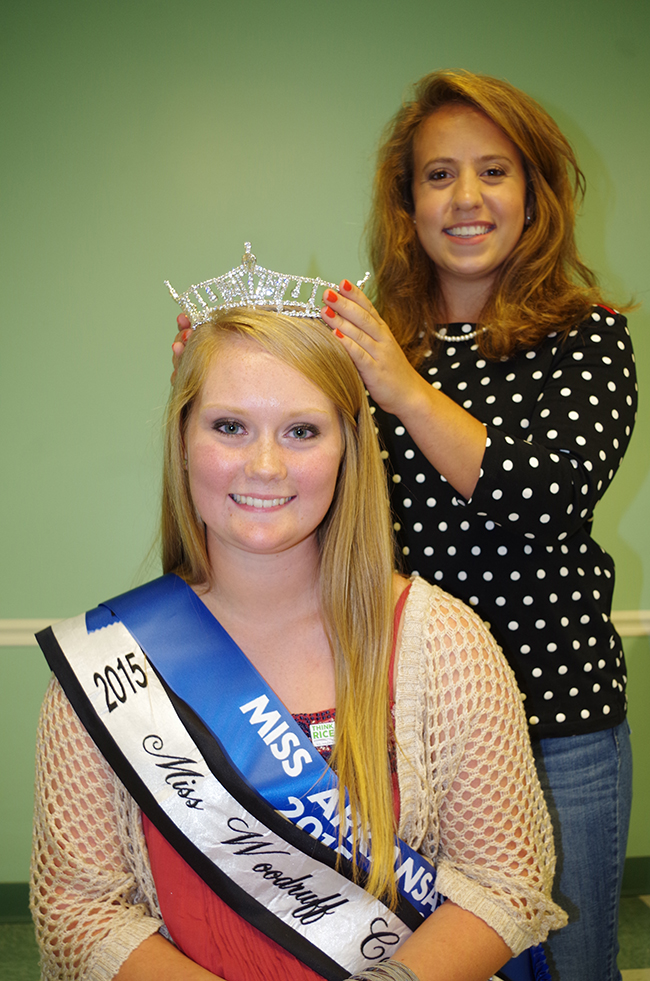 1. What made you want to become Miss Arkansas Rice?
I was approached by Mrs. Janice Marsh in church one day about trying out for Miss Woodruff County Rice. At first, I was hesitant, because I do not come from a farm family. But I was assured that does not play a factor in the competition. I also wanted to use the experience to learn more about how much the rice industry does for Arkansas. I enjoyed meeting and talking with people and entering the competition gave me this opportunity.
2. How did it feel when you were crowned Miss Arkansas Rice?
There is only one word to describe how I felt when I was crowned Miss Arkansas Rice: shock. To be perfectly honest, I already had it in my head who was going to win. When the announcements for first and second runner-up were announced, I thought to myself, "Wow. Both of those girls were great. Who beat them?" While I was thinking that, my name was called as Miss Arkansas Rice and I did not even hear it! My mom patted me on the back and said, "That's you!" I was so shocked and as I walked up front to be crowned, tears began to form in my eyes. I did not even know what to think. It is a huge honor, because Woodruff County has not had a Miss Rice in over 30 years and has never had one to be crowned Miss Arkansas Rice. I was definitely on cloud nine!
3. What has been your favorite Miss Arkansas Rice-related activity so far?
Since school has recently started, I have not had too much time to do many Miss Arkansas Rice activities. Now that I am getting into the school year, I have a few activities lined up. I will be at the Bank of McCrory, Sept. 4 for their rice tasting in honor of rice month. I am also scheduled to be on Channel 11, Sept. 16 to talk about my dish and promote rice month, so I am really looking forward to that and what is to come.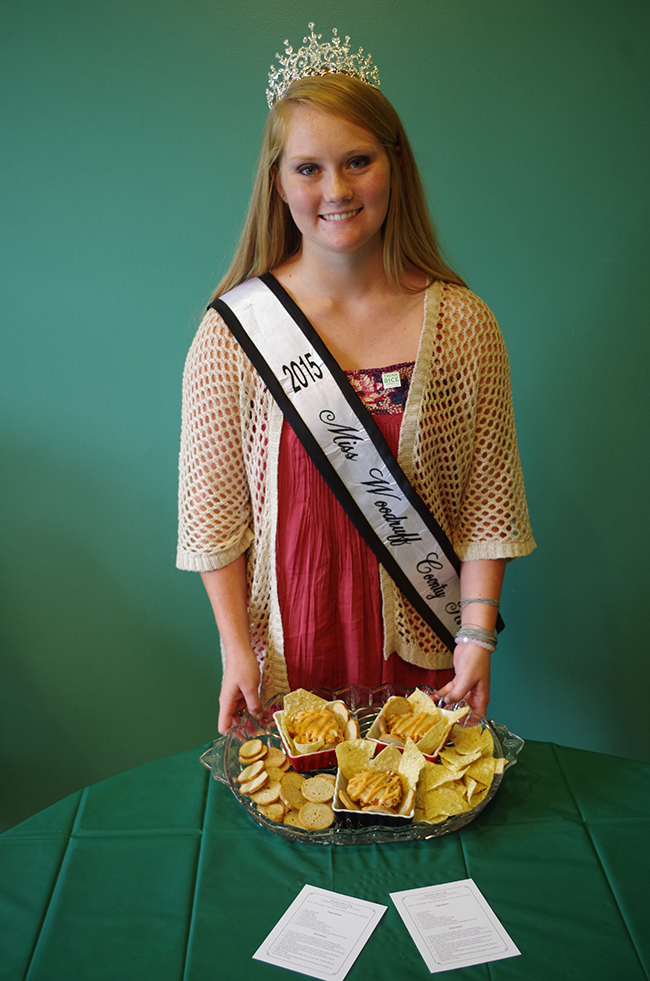 4. Why do you believe it's important to educate people about rice, rice production and the rice industry in Arkansas?
I think that it is very, very important to educate people about rice, rice production and the rice industry in Arkansas, because it provides so much – not only for Arkansas – but for the entire nation. It's a big deal that 50 percent of the rice grown in America is grown here in Arkansas. The rice industry also provides over 25,000 jobs in Arkansas, which are all important to rural communities.
5. Tell us about the rice industry in your own county, Woodruff County.
Woodruff County is in the top 10 rice-producing counties in the state of Arkansas. There are nearly 300 functioning farms in the county, as well. Nineteen percent of the population in Woodruff County is employed in the rice industry. For such a small county, Woodruff County greatly contributes to the rice industry.
6. What do you plan to do to continue promoting rice and Arkansas agriculture during your time as Miss Arkansas Rice?
To continue promoting rice and Arkansas agriculture, I plan to continue making public appearances where I will help educate people on the rice industry. I will definitely continue to promote rice and healthy eating habits to children. Hopefully, I can encourage kids to make healthier eating choices and to add more rice to their diets. I also plan to continue promoting rice on my Facebook page, Miss Arkansas Rice 2015-2016. Social media has such a huge impact on people's daily lives. And if I can catch peoples' eyes by posting healthy recipes and important facts about the rice industry, then I have done my job. The world of social media is huge and by the single click of a button, someone can share something interesting about rice from my page with their friends, which is so incredibly awesome.
7. What are your future plans?
Since I will be graduating in the spring of 2016, making future plans is a big deal right now. In the fall of 2016, I will attend Arkansas State University in Jonesboro where I plan to major in Physical Therapy with a specialization in pediatrics.
8. Tell us about your recipe – describe why you like it, where the recipe came from and how best to serve it.
My recipe is called the Reuben Rice Dip. I really like my recipe because it is very personal to me. Reuben sandwiches are one of my favorite things to eat, so I combined the ingredients with brown rice to create an easy-to-make dish. When I decided to make a dish with Reuben sandwich ingredients, my mom and I began to try many different measurement sizes until we got the perfect amount of everything. When I first thought of the dish, I wanted an appetizer, so I call my dish a dip. If one chooses to eat the dish as a dip, he or she can eat it with tortilla chips or Melba toast. However, some people choose to eat it as a casserole. It is a filling dish and is great either way.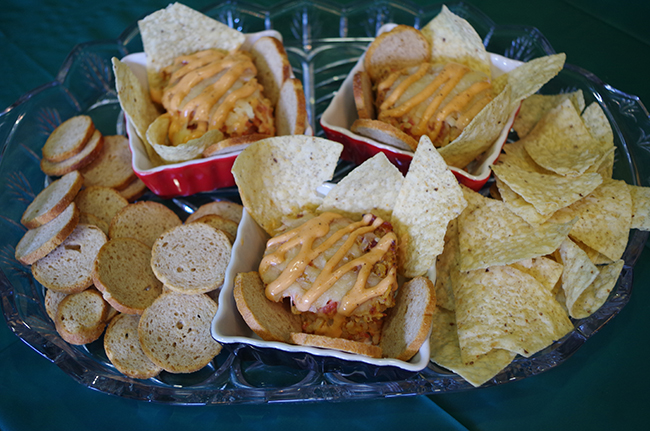 REUBEN RICE DIP
Prep time: 45 minutes
Cook time: 30 minutes
Serves 16-20 people
Ingredients
• 1 cup mayonnaise
• 6 tablespoons ketchup
• 2-3 dashes Tabasco sauce
• ½ teaspoon black pepper
• 1 lb. corned beef (chopped)
• One 8 oz. block of cream cheese (softened)
• One 16 oz. jar of sauerkraut (drained)
• 2 cups shredded Swiss cheese (divided)
• 2 cups cooked brown rice (cooked according to package directions)
Directions
1. Preheat oven to 350°F and lightly grease and 8"x8" baking dish.
2. To make Thousand Island dressing, mix first four ingredients in a small bowl. Reserve ¼ cup of dressing for after baking.
3. Mix softened cream cheese and ¾ cup of Thousand Island dressing in a large bowl.
4. Add cooked brown rice, sauerkraut and 1 cup of shredded Swiss cheese. Mix well.
5. Place in a greased baking dish and top with remaining 1 cup of shredded Swiss cheese.
6. Bake 30 minutes or until bubbly. Serve warm with tortilla chips or Melba rounds.
7. Have extra Thousand Island dressing out for guests to drizzle on top of their serving.