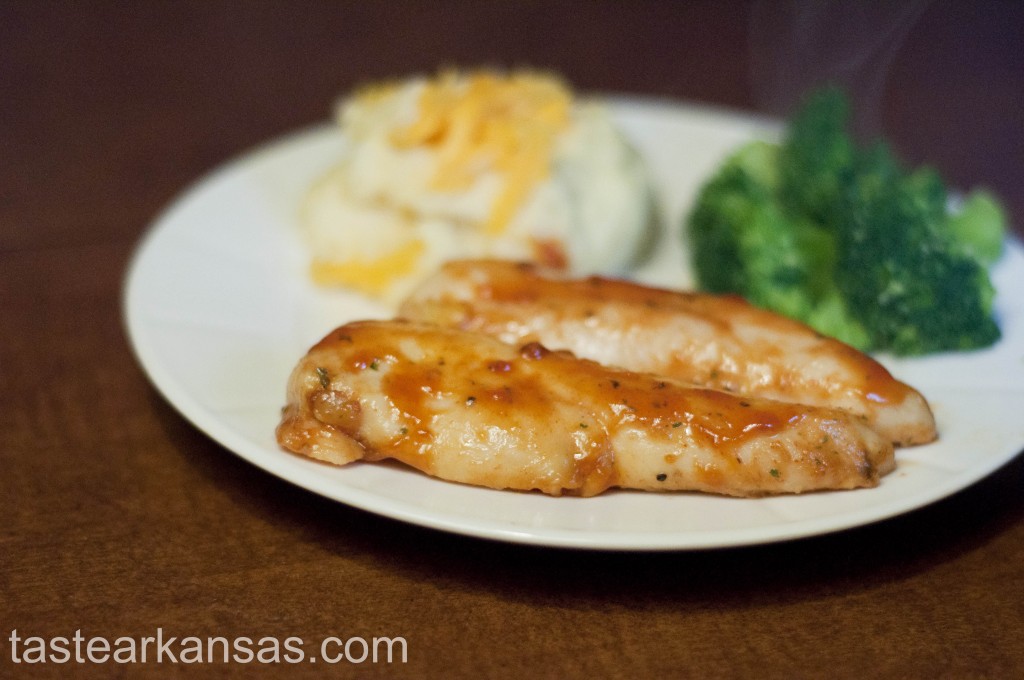 I try not to use seasoning packets when cooking, because I like mixing and matching seasonings. However, I was hungry at the grocery store, and that always makes me buy different things. I got a packet of mesquite seasoning and made these Mesquite Chicken Tenders with BBQ Sauce. The sauce was awesome! I will definitely be making this again.
 Did you know about 2,500 farms in Arkansas raise chickens?
Ingredients
2 pounds boneless, skinless chicken breast tenderloins
1 packet mesquite seasoning
¼ cup oil
¼ cup water
¼ cup apricot preserves
½ cup ketchup
½ teaspoon Dijon mustard
2 teaspoons soy sauce
Instructions
1. Mix oil water and mesquite seasoning packet as directed on package. Reserve 1 tablespoon of the marinade mix and use the rest to cover the chicken. Marinade for at least 30 minutes.
2. Meanwhile, in a small saucepan, combine apricot preserves, ketchup, Dijon mustard, soy sauce and reserved marinade mix over low heat. Stir continually. Simmer for 10 minutes and set aside.
3. Preheat oven to 425 degrees. Remove chicken from marinade and set on foil lined cookie sheet. Bake for 25-30 minutes or until chicken reaches an internal temperature of 165 degrees. During the last 5 minutes of cooking time, drizzle chicken with prepared BBQ sauce. Serve immediately with more BBQ sauce on the side.