You didn't think the catfish recipes were over did you? This week Keith "Catfish" Sutton is serving up a Lime Broiled Catfish.
Here's another delicious, time-saving recipe that makes the most of fresh, American farm-raised catfish fillets. If you don't have limes available, lemons can be substituted.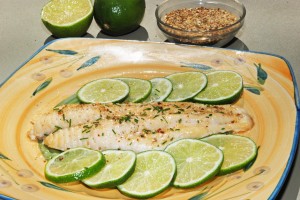 Ingredients
2 pounds farm-raised catfish fillets
1 cup melted butter or margarine
2 limes
Lemon-pepper spice
Chopped fresh chives for garnish
Directions
Pour the hot melted butter in a large bowl, and dip each fish fillet. Transfer the fish to a rectangular pan lined with non-stick aluminum foil. Squeeze one half lime over each piece of fish, and season to taste with lemon-pepper spice.
Place under a preheated broiler and cook 6 inches from the flame for 3 to 4 minutes or until the thickest part of each fillet flakes easily with a fork. Garnish with chives if desired, and serve immediately while the fish is still piping hot.