Do you remember when I posted this recipe for lemon bars? I didn't think I could find another lemon recipe that could rival that one. I was so wrong. These cookies are light, buttery and wrapped in a tangy lemon flavor. I could've eaten the whole pan myself. My dinner guests finished them off with a flourish. I barely got a picture! The cookies really were excellent. I think they make a great addition to any summer party.
Did you know Arkansas produces all crops grown normally in the temperate zone, and with the exception of citrus fruits, grows practically every crop produced in the U.S.?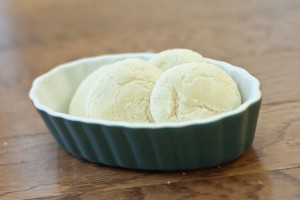 Ingredients:
½ cup butter, softened
1 cup granulated sugar
½ teaspoon vanilla extract
1 whole egg
1 teaspoon lemon zest
1 tablespoon fresh lemon juice
¼ teaspoon salt
¼ teaspoon baking powder
⅛ teaspoon baking soda
1-½ cups all-purpose flour
½ cup powdered sugar
Directions:
Preheat oven to 350 degrees. Grease light-colored baking sheets with non-stick cooking spray and set aside.
In a large bowl, cream butter and sugar together until light and fluffy. Whip in vanilla, egg, lemon zest and juice. Scrape sides and mix again. Stir in all dry ingredients slowly until just combined, excluding the powdered sugar. Scrape sides of bowl and mix again briefly. Pour powdered sugar onto a large plate. Form a heaping teaspoon of dough into a ball and roll in powdered sugar. Place on baking sheet and repeat with remaining dough.
Bake for 9-11 minutes or until bottoms begin to barely brown and cookies take on a matte-like looking finish (not melted or shiny looking). Remove from oven, and cool cookies about 3 minutes before transferring to cooling rack.
*If using a non-stick darker baking tray, reduce baking time by about 2 minutes.