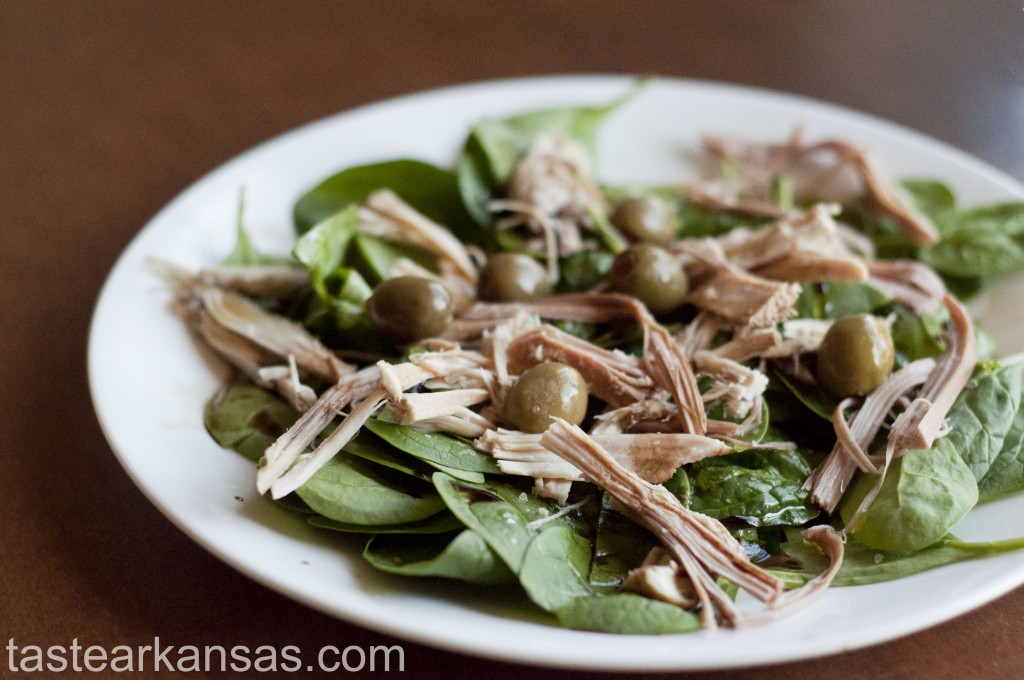 My dad smoked our turkey this Thanksgiving and sent me home with a bunch of leftovers. I've been eating a lot of turkey this week, and I made this quick Leftover Turkey Spinach Salad for lunch a few days ago. Sometimes I love a complicated salad with a ton of ingredients, flavors and textures. However, it's also nice to have a fresh, crisp salad that's easy to make. The tartness of the olives balances the crisp sweetness of the vinegar. It's so good I don't miss my usual ranch dressing at all.
Did you know Arkansas farmers raise more than 24 million turkeys each year?
Ingredients
2 cups fresh baby spinach
3 ounces turkey breast, cooked and shredded
5 green olives
Olive oil, to taste
Balsamic vinegar, to taste
Salt and pepper, to taste
Directions
Rinse baby spinach, dry on paper towels and place on a large plate.
Warm turkey breast in skillet over medium heat for 3 to 4 minutes or in microwave set on high for 30 seconds.
Top spinach with turkey breast and olives. Drizzle desired amount of olive oil and balsamic vinegar on top. Then, sprinkle with salt and pepper.  Serve immediately.