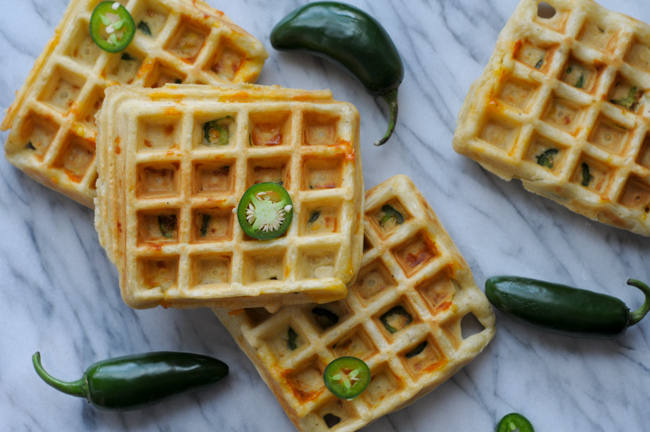 We're nearing the end of summer and in addition to school starting and the promise of cooler weather, we now have what every Arkansan gets excited about: FOOTBALL SEASON! Which also means another fun thing: GAME DAY FOOD! Toss those two together with a spicy Arkansas jalapeño, some freshly grated sharp cheddar and a few heaping cups of fresh-from-the-farm corn and you have yourself a party.
These waffles are fantastic, and not just because they're waffles. Not only are they simple to make, but they're stuffed to the brim with fresh-cut corn and sharp cheddar cheese. And if that's not enough? They're topped with fresh slices of spicy jalapeños baked into the waffles. Not your mama's waffles y'all.
These can work for you in so many ways. Use them as buns for your burgers or pulled pork; smother 'em with goat cheese and homemade preserves; spread them with butter as a snack; cover them with salsa, cheese and guacamole. The options are endless.
Enjoy these fantastic waffles.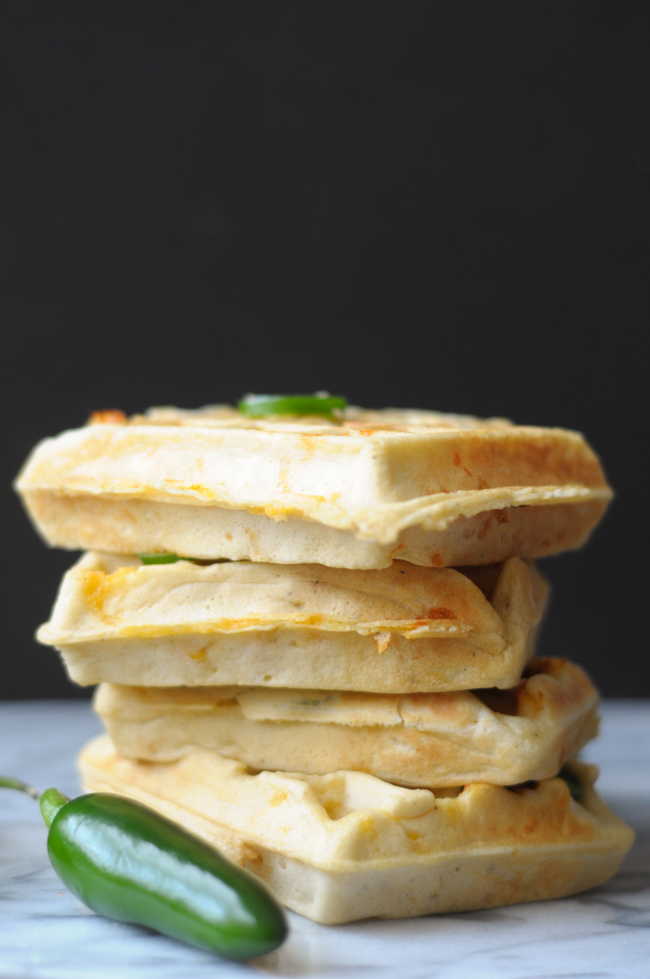 JALAPEÑO CHEDDAR CORN WAFFLES
Makes 10 large Belgian-size waffles
Ingredients:
2 cups all-purpose flour, plus 2 tablespoons
1/2 tablespoon baking powder
1 teaspoon salt
1/2 teaspoon baking soda
1/2 teaspoon ground black pepper
1/2 teaspoon garlic powder
2 cups milk
3 large eggs
1/4 cup olive oil OR melted butter
1-1/2 cups grated sharp cheddar cheese
2 cups fresh corn kernels
3 fresh jalapeños, sliced thinly
Directions:
Preheat waffle iron according to manufacturer's directions.
Whisk together the 2 cups of flour, baking powder, baking soda, salt, black pepper and garlic powder.
In a large bowl whisk together the milk, eggs and olive oil until well combined.
Add the dry ingredients and whisk just until the dry ingredients are barely incorporated.
In a small bowl toss the corn and cheddar with the remaining 2 tablespoons of flour.
Pour the corn and cheddar mixture into the batter and fold everything together until just combined.
Spray the waffle maker with nonstick spray.
Pour the batter into the waffle maker, about 3/4 of a cup per large rectangular waffle.
Place 3-4 jalapeño slices on top of the waffle before closing the lid.
Cook for about 3-5 minutes until the waffles are golden brown.
Remove the waffles and repeat until all of the batter has been used.
Post and recipe by Arkansas Women Bloggers member Heather Disarro of Heather's Dish.
Arkansas Women Blogger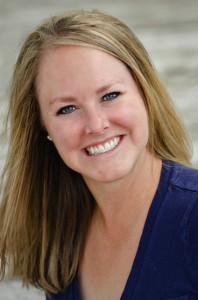 member Heather Disarro is a food-centric lifestyle blogger who is passionate about embracing the beauty that surrounds us in our everyday lives. She is a Texan living the expat life in central Arkansas with her husband, son and two massive dogs. Heather writes her blog, Heather's Dish, from an office filled with dust, dog fur, toys and plenty of love, grace and music. She revels in the opportunity to bring the love of cooking to the world as a way to love others well!