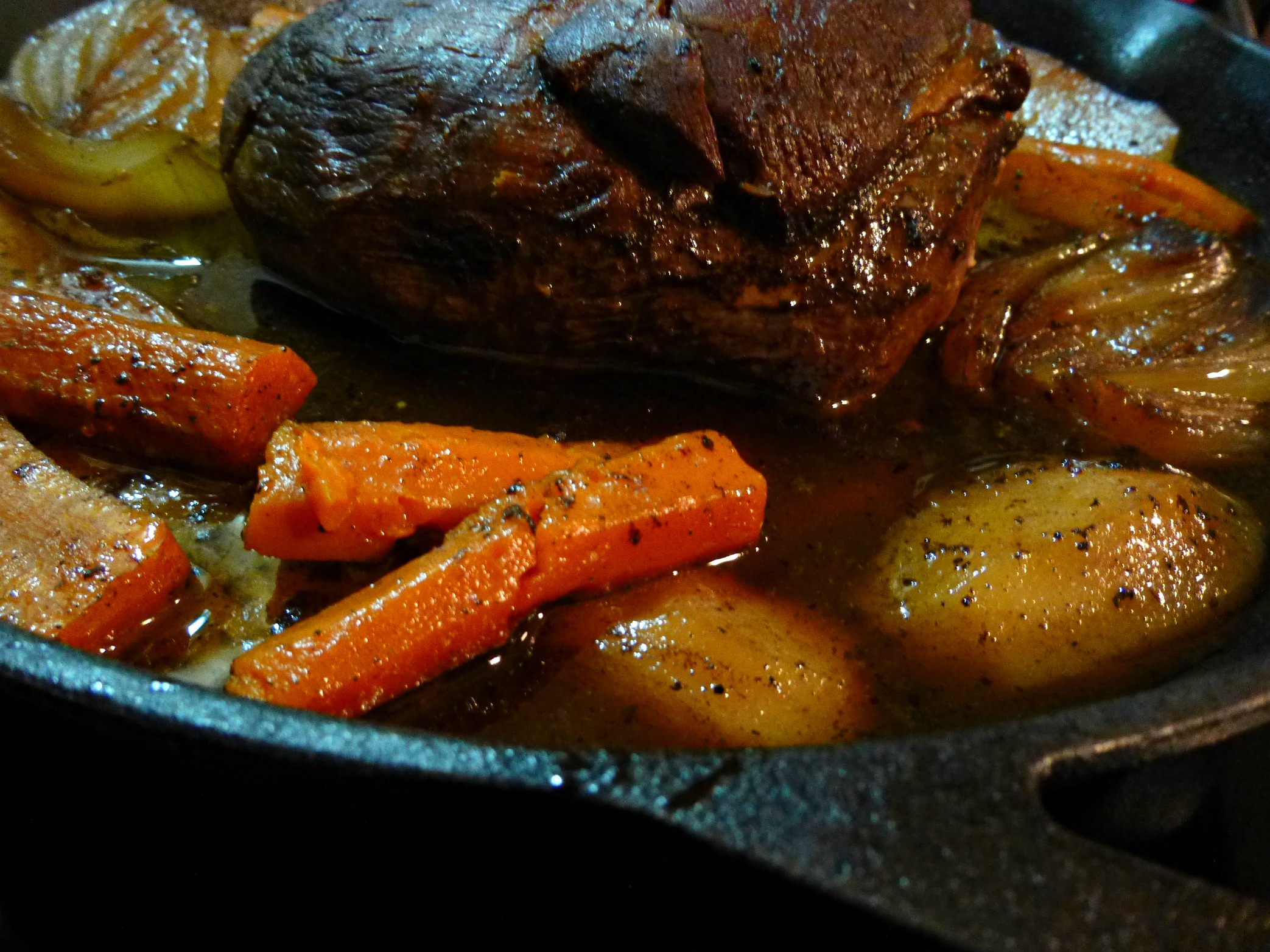 For most of my life, our family farm was one of the more than 28,000 farms in Arkansas raising cattle. For years, my dad was part owner of a local sale barn that helped get cattle to market. Our freezer was usually filled with home-grown beef and pork. I have a deep appreciation for the work these local cattle ranchers put into their herds. And I also have a deep appreciation for a good meal with beef as its centerpiece.
One of my favorite meals that Mom cooked while I was growing up was roast with potatoes, carrots and onions. There was nothing like walking in the door after Sunday church encountering the wonderful fragrance of roast in the oven. Because I also love quick prep time and cleanup, this Iron-skillet Roast and Root Vegetables combines three loves in a single-skillet meal.
IRON-SKILLET ROAST BEEF AND ROOT VEGETABLES
Prep Time: 15 minutes
Roasting Time: 2-3 hours
Servings: 6
Ingredients:
2 tablespoons vegetable oil or butter
2-3 pound roast (can use beef, pork or venison)
1 large onion cut in half
4-6 medium potatoes, peeled and halved
4-6 carrots, peeled and cut into 3-4 inch pieces
½ cup of balsamic vinegar, wine or cooking wine
1-2 cups water
salt and pepper to taste
¼ cup cornstarch or ½ cup flour
¾ cup cool water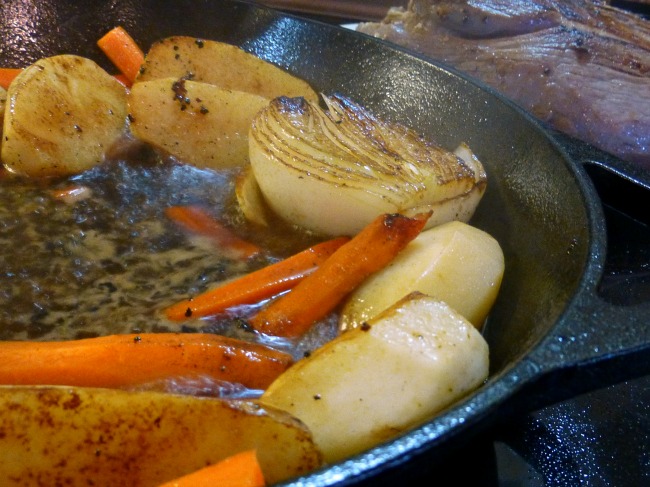 Instructions:
1. Preheat oven to 350 degrees F.
2. In a 12-inch iron skillet, heat oil to medium-high.
3. Place roast in hot oil and lightly brown both sides. Remove from skillet.
4. Place onion (cut side down), potatoes and carrots in skillet and lightly brown.
5. Add balsamic vinegar to skillet to de-glaze.
6. Place roast back in skillet, arranging vegetables around the edge of the skillet.
7. Salt and pepper to taste.
8. Add enough water to cover bottom of the skillet by about an inch.
9. Cover skillet with foil using hot pads to prevent burning your hands.
10. Place skillet on lower oven shelf and roast for 2-3 hours.
11. Remove skillet from oven and place roast and vegetables on serving platter.
12. Mix cornstarch and cool water in measuring cup.
13. Add cornstarch and water to drippings in skillet and stir in with whisk.
14. Return to oven to heat (for about 10 minutes) to make gravy or heat on stove top over medium-high heat, stirring constantly to make gravy. Add more water if needed to reach the right consistency.
Serve and enjoy!
Post by Mary Wood.