Sometimes when I'm running low on inspiration for new recipes, I look to the Internet for ideas. I stumbled across this recipe for Huevos Rancheros and thought I'd give it a try. I went into making this recipe with low expectations. Then, I couldn't get enough. I usually don't rank recipes, but this is definitely in my top 10 best brunch dishes. I can't wait to make it for guests. This recipe is a little higher on the calorie side, but you could use scrambled egg whites and forgo the bacon. I wouldn't recommend doing that. This is a recipe you need to experience in its full glory. Try it. You will see.
Did you know Arkansas' farmers produce nearly three million eggs each year?
 Ingredients
2 tablespoons vegetable oil
4 tortillas, 6 inch
1 cup refried beans
1 teaspoon butter
4 eggs
1 cup shredded cheddar cheese
8 slices bacon, cooked and crumbled
½ cup salsa
Instructions
Heat oil in a small skillet over medium-high heat. Fry tortillas one at a time until firm, but not crisp. Remove to paper towels to drain grease.
Meanwhile, combine the refried beans and butter in a microwave-safe dish. Cover, and cook in the microwave until heated through. When tortillas are done, fry eggs over easy in the skillet. Add more oil if the tortillas have absorbed it all.
Place tortillas onto plates, and spread a layer of beans on them. Top with cheese, a fried egg, crumbled bacon and, if desired, salsa.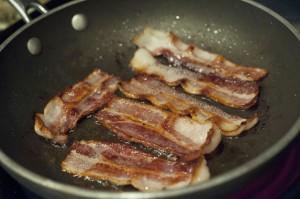 Instead of heating the oil first, I cooked my bacon. Notice there is an extra slice in there. I was hungry.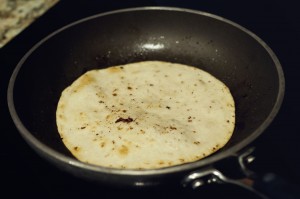 Then, I used the bacon grease to fry my tortilla.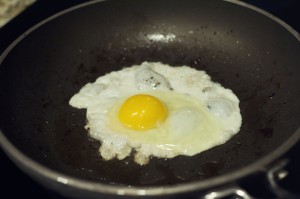 I fried the egg in the same pan.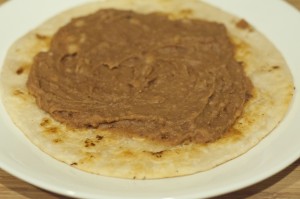 After warming up the refried beans, I spread a thin layer onto the tortilla.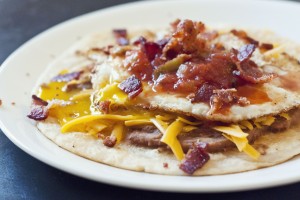 After the beans, add cheddar cheese, then the egg and salsa. I sprinkled the crumbled bacon on last.