Gardening is a little bit addictive. Yes, it starts innocently enough. You grab that hearty little tomato plant that catches your eye with visions of salsa dancing in your head.
It grows beautifully and most importantly, it's delicious. Heady with success, your next step is usually a modest garden of several varieties. Yep, you're headed down a slippery slope. Watch out, heirloom varieties could be on the horizon.
Before you know it, your highlight of January is braving the cold to get to the mailbox and rushing back to curl up in front of the fire with a good . . . seed catalog. Diagnosis: You've been bitten by the gardening bug.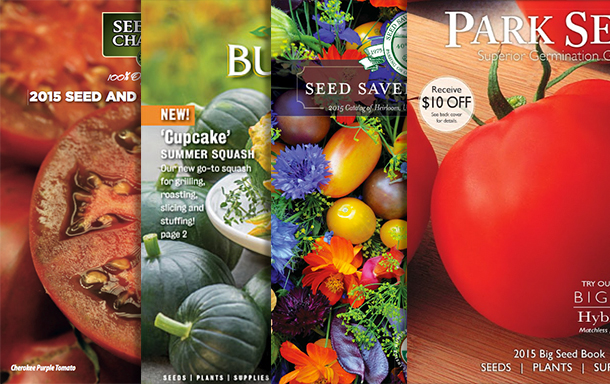 I know, those Instagram photos of colorful Purple Haze Hybrid carrots are like art. You long to harvest a rainbow basket of peppers, try your hand at microgreens, or pluck a particularly tasty heirloom cherry tomato right outside your door. Before you know it, you'll be starting a farmers market in your town. Oh, trust me, it happens.
Whatever your aspirations are for this year's garden, you've progressed to the point in your gardening career where you need to start from seed. It's important to know how to read and understand the information on the seed packet to get your precious little seedlings get off to a good start.
Hybrid or Heirloom?
During those lazy days in front of the fire with your catalog, you're going to make some decisions on what to grow. (Tip: Don't get overzealous, you really aren't going to  need to plant eight rows of squash. I know from experience.)
There are a number of good seed catalogues available, some of my favorites are Baker Creek Heirloom Seeds,Renee's Garden,Seeds of Change,Territorial Seed Co. as well as, the well-known Burpee Gardening.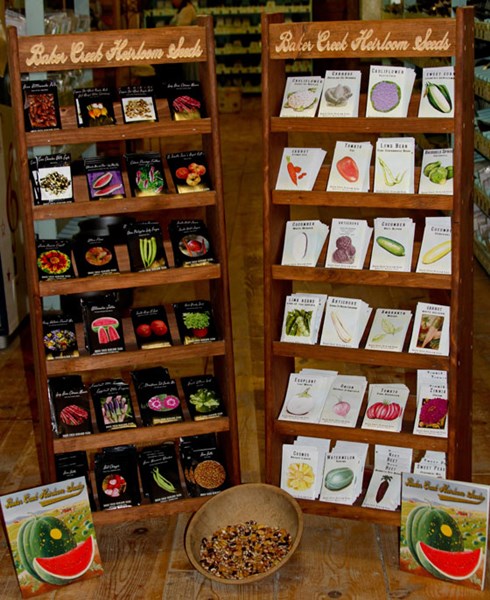 Perhaps you're looking at tomatoes. You may notice the words "hybrid" or "heirloom" after the plant name. This is important to know.
Hybrid — These are artificially pollinated to produce plants that resist disease better or produce more consistently. Since they're generally more vigorous plants, hybrids are a good plant for novice gardeners. The seeds, however, may be sterile and not suitable for seed saving, since the plants were artificially pollinated…
Heirloom — These plants often have a history in the area, and sometimes with the gardener's family. Some heirlooms will not grow in another area's climate, so it's best to acquire heirloom seeds locally. But when they work, have mercy they are delicious. My favorite, black krim tomatoes.
When to plant
On the back of the seed packet is a schedule of planting dates and some have a handy-dandy graphic for identifying your planting zone. To help you out, find your zone on the graphic below. Recommendation: put on the calendar when you plan to plant each type of seed.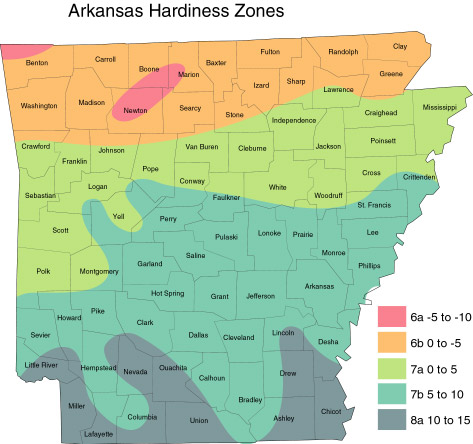 Sowing instructions
Next, consult the sowing instructions. Do you need to start the seeds indoors, and then transplant when the weather's warmer?
Generally, start seeds 6 to 8 weeks before planting outdoors. Squash, beets, and okra can all be sowed directly outdoors once the danger of frost has passed.
Danger of frost — Novice gardeners may never have paid much attention to this date before, but it's critical for your first planting of the season. According to the Farmer's Almanac, 2015's last frost dates are:
Little Rock – March 22
Fayetteville- April 10
Stuttgart – March 20
Jonesboro -March 29
How long will it take to grow?
Other information you'll be interested in noting on your seed packet is the chart with information about days to germination and harvest, planting depth and spacing. Keep all this information at your fingertips when planning your garden so you'll know how to space your plants properly, where and when to plant subsequent plantings for continued harvest.
Use fresh seeds
Each seed packet has a "sell by" date or at least a date when the seeds were packaged. Use seeds in the year they were purchased, since many seeds will lose viability after about a year.
If you find older seeds you'd love to use, do a germination test first. Place about 10 seeds on a moist paper towel, cover with another moist paper towel, and place into a plastic bag with holes for air circulation. Put the bag in a warm, dark place and keep it moist. After a week the seeds should begin sprouting. If not, you'd be wasting valuable garden space trying to grow them.
The Burpee Seed Company has videos about seed starting.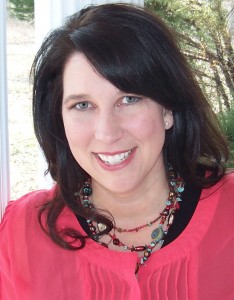 Stephanie, aka The Park Wife, is a tribe builder. She is the founder of Arkansas Women Bloggers (ARWB), an online community designed to gather, grow, and connect social media influencers in our state. Considered an old-timer in the blog world, since 2005 she has written what she hopes is a love letter to her children on her lifestyle blog, The Park Wife. Raised in the debutante world of Mississippi, she married a hunky park ranger and moved to Arkansas 15 years ago and has fallen in love with the state. She loves gardening, porch swings, a beautifully set table, a delicious meal surrounded by great conversations, their cabin in the woods and monograming everything that is not nailed down. She is a devoted wife and fun-loving, homeschool mom to two extraordinarily cool little gentlemen and is fortunate enough to live on one of Arkansas's premier state parks.