A hot drink bar is a warm, tasty cure for cold-hearted winter blues. When the weather is dreary and children need to warm their bones, it's time to set out the makings for delicious drink selections the whole family, and perhaps a few friends, will appreciate.
For a scrumptious hot drink bar, you'll need: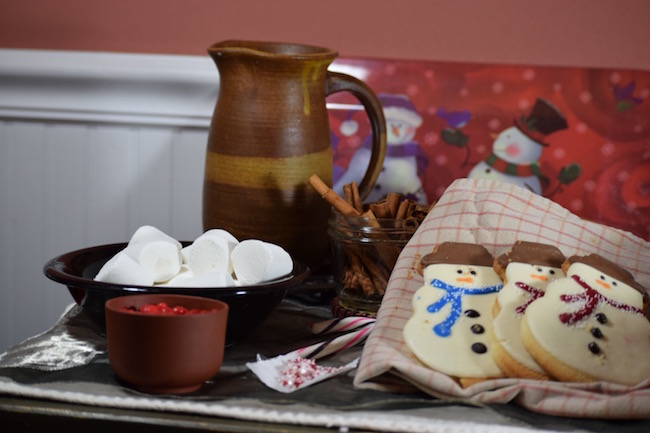 cold or cool winter weather
slow cooker or a stovetop and a saucepan
sugar
cocoa
family and/or friends
table, counter or kitchen cart for service
whipped cream
milk
children (optional)
candy canes still resting in the pantry from the Christmas season
small bowl of peppermint candies, also leftover from the holidays or purchased ahead for Valentine's Day.
cinnamon sticks
Red Hots candies
chocolate syrup
cookies and other treats
sliced apples (optional)
marshmallows (not really optional)
Set out the bar for a weekend breakfast or a Valentine party. Leave it out all day for folks you love, so they can help themselves to warmth and happiness and sugar.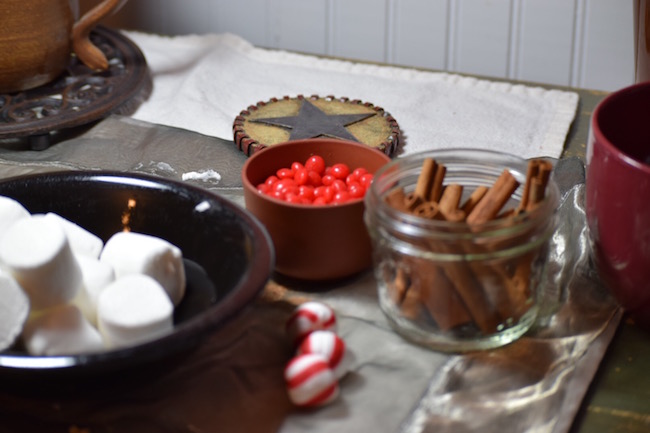 HOT APPLE CIDER
This hot apple cider is perfected with hot candies, a little spice and a good chunk of brown sugar. Keeping it in the slow cooker all day makes the entire house smell delicious.
INGREDIENTS
1 gallon apple juice
½ cup Red Hots
5-6 cinnamon sticks
¾ cup brown sugar
½ teaspoon Allspice
tart Arkansas apples, sliced thin for garnish
INSTRUCTIONS
Put all ingredients in slow cooker.
Set 4-6 hours on low, stirring occasionally. Leave in the slow cooker all day for self-service and continue stirring once in a while.
Using a ladle, pour into Add cinnamon sticks or apple slices for garnish.
You can use a recipe for homemade chocolate syrup, or use dry ingredients to add to hot milk.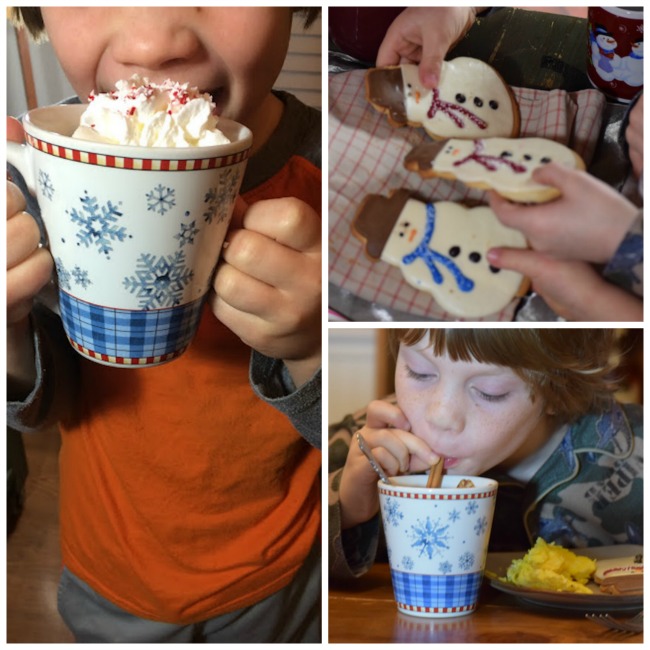 HOT CHOCOLATE
INGREDIENTS
½ gallon milk
2 cups half-and-half
1 tablespoon vanilla
dash of salt
or
¼ cup cocoa, sifted
¾ cup granulated sugar
½ teaspoon ground cinnamon (optional)
INSTRUCTIONS
Mix half-and-half and milk, heat slowly on a stove burner. (Be sure to keep an eye on it. Milk rises while heating and tends to spill over the saucepan.)
Using a whisk, mix cocoa, sugar and ground cinnamon.
Pour heated milk in mugs and add two to three tablespoons of cocoa mix, stirring until dissolved.
Garnish with your choice of whipped cream, cinnamon stick, peppermint and marshmallows.
Keep heated milk in a carafe for additional servings.
Additions to the hot drink bar:
hot water for steeping tea
spiced tea
chai tea
orange and cranberry juices for adding to cider or tea
For adult hot drinks:
Kahlua or other coffee liqueur to add to hot chocolate
red wine or sangria for apple cider
coffee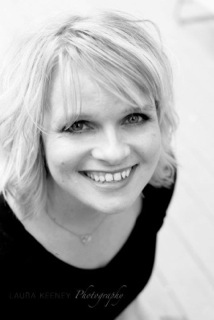 Arkansas Women Bloggers member Rhonda Franz is a freelance writer, licensed teacher, home operations specialist, and domestic chef. She combines her professional background and mommyhood experiences to write on family, parenting, cooking, and education. You can read more about her at captainmom.net andrhondafranz.com.