The other day all I wanted for dinner was chicken and something with a little spice. I had drumsticks in the fridge and decided to give this recipe for Hot and Sweet Drumsticks a whirl. I was a little skeptical about the apricot preserves, and I had to make a quick trip to the store to pick up a jar, but boy was it worth it. I don't know what kind of magic is in that little jar of apricot preserves, but I'm not asking any questions. These drumsticks were fantastic, sweet with a spicy kick. I highly recommend them.
Did you know the average American will consume more than 73 pounds of poultry this year? The poultry industry accounts for more than 40 percent of Arkansas agriculture based on the value of production!
Ingredients
1 cup apricot preserves
½ cup ketchup
¼ cup soy sauce
2 teaspoons minced garlic
2 teaspoons hot sauce
3 pounds drumsticks
 Instructions
Preheat oven to 350 degrees. In a small saucepan, combine preserves, ketchup, soy sauce, garlic and hot pepper sauce. Cook and stir over medium-low heat until preserves are melted.
Arrange drumsticks in a single layer on a 13 x 9 inch baking pan. Pour sauce over drumsticks, turning to coat.
Bake, uncovered, for 40 to 45 minutes or until chicken is done, spooning sauce over drumsticks while baking.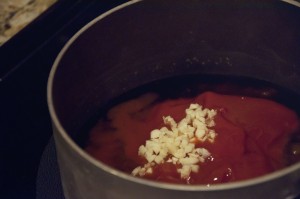 This sauce was super easy to make. Just combine the ingredients, stir and let it all combine.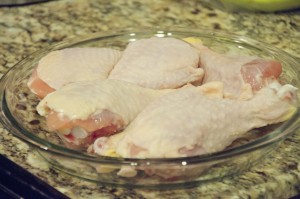 Arrange your drumsticks in some kind of pan. I used a pie pan and was really impressed with my artful arrangement.
This is what your sauce should look like all combined and melted.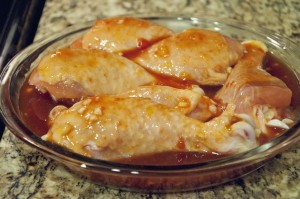 Pour the sauce over the drumsticks and turn them over a few times.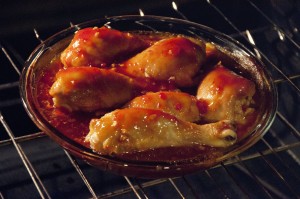 Put them in the oven. After a while the sauce starts to bubble and thicken a little. Your kitchen will smell like heaven.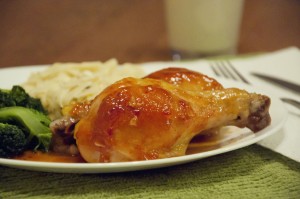 Put some of those finished drumsticks on a plate and drizzle some sauce from the pan over them. So good.