I really like those microwaveable breakfast sandwiches you find in the freezer section. They're so convenient and actually make me look forward to breakfast. Earlier this week, I saw this blog post for homemade breakfast sandwiches on Pinterest and decided to do my own version. These sandwiches are delicious, easy to make, reheat beautifully and lack a lot of the preservatives you find in the sandwiches from the freezer section. The bagel thins were full of flavor, but didn't sit heavily on my stomach like bagels sometimes can. The turkey bacon was flavorful and crispy. I want to make these sandwiches each Sunday, so I can have delicious breakfasts all week. To make more sandwiches multiply the recipe below accordingly.
Did you know U.S. Department of Agriculture inspection standards for all phases of poultry processing are the toughest in the world?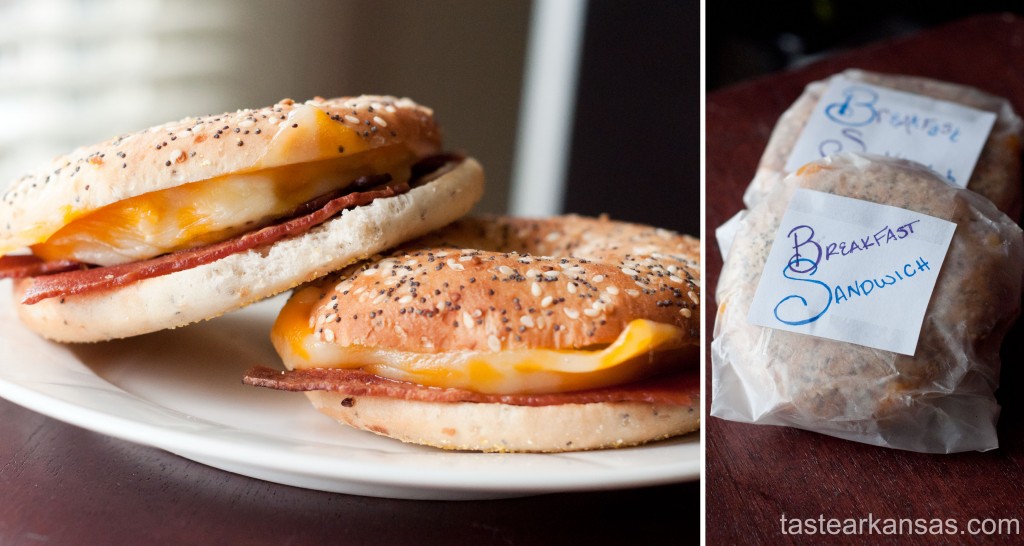 Ingredients
8 slices of turkey bacon
4 slices of cheese
4 eggs
4 everything bagel thins
seasoning, to taste
Directions
Preheat oven to 350 degrees, and line bacon slices on a cookie sheet. Put bacon in the oven and cook for 6 minutes. Meanwhile, crack eggs into four separate, greased ramekins or muffin tin. Season to taste. Place eggs into oven and continue to cook for 9 minutes.
At this point the bacon should be done, remove it from the oven. The eggs may need a few more minutes, cook until the whites and yolks are firm.
Allow bacon and eggs to cool slightly. Preheat the oven on the broiler setting.
Separate the bagel thins onto a cookie sheet, add one egg and a slice of cheese to each bagel top and place the bacon on the bagel bottoms. Broil until cheese is melted and bagel thins are warmed through.
Remove from the broiler and assemble the tops and bottoms. Enjoy immediately or allow to cool, wrap in plastic wrap and refrigerate until ready to eat. Microwave for 20 seconds at a time or until heated through.