If your family is like mine, you look forward to a mouth-watering feast on Christmas Day with your table piled high with an abundance of food. We always have plenty for the big day with lots of leftovers to enjoy later. What's the best way to take advantage of your leftover abundance? Here are some ideas.
I like to look over our leftovers and make sure that none of that great food goes to waste. If I find that we have more left over than we can eat in a reasonable amount of time (2 to 3 days), I package up individual portions and freeze for quick meals later on. Divided storage containers are great for freezing your own 'frozen dinners.' I package up family size portions of ham and turkey for fast meal prep on a hurried workday. Christmas desserts can also be frozen. I like to freeze individual cookies and pieces of pie wrapped in plastic wrap for a taste of Christmas into the New Year! Use frozen leftovers within 2 to 3 months.
I like to use everything, I even save my hambone for a big pot of ham and beans. Freeze the bone in a gallon storage bag with the leftover juices.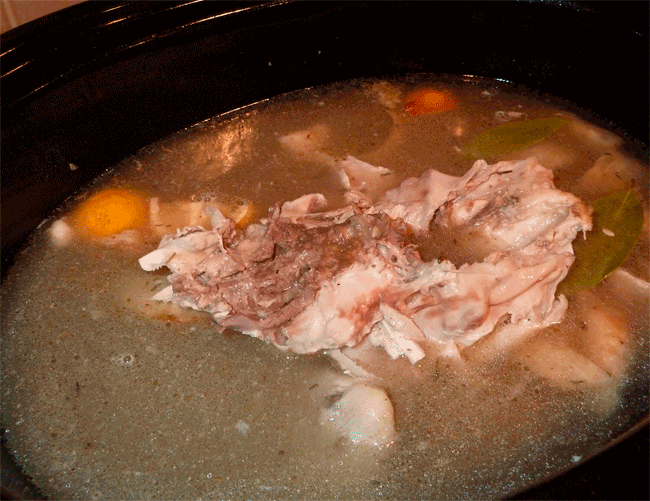 The same can be done with turkey bones for cooking up a big batch of broth. Leftover gravy can be added to the pot of broth. Throw in some chopped onions, celery and carrots to add flavor. Strain the broth and freeze in quart storage bags for future use.
We love to use leftover ham and turkey on leftover rolls to make 'sliders.' Leftover cranberry sauce is a tasty addition to a turkey slider. Other ideas for leftover ham and turkey:
Salad toppers
Add to omelets or scrambled eggs
Top a baked potato
Grilled ham and cheese sandwiches
One of our family's favorite things about the holidays is special recipes we have come up with to use leftovers. Here is one of our favorites:
Mexican Turkey Casserole
Ingredients:
1 

10.75 oz 

can cream of chicken soup
1

10.75 oz 

can cream of mushroom soup
1

10.75 oz 

can diced tomatoes and peppers
1 cup sour cream
1 cup turkey broth
2 cups cubed turkey
1 large bag taco or nacho cheese flavored tortilla chips
2 cups shredded cheddar cheese
Preheat oven to 350 degrees.
Mix cream of chicken soup, cream of mushroom soup, diced tomatoes and peppers, sour cream, and turkey broth in large mixing bowl.
Stir in cubed turkey.
Crush tortilla chips. (Open bag first and fold down top.)
Add crushed chips to soup and turkey mixture, coating chips with soup mixture.
Pour mixture into large casserole dish.
Top with cheese.
Place in oven on lower shelf.
Bake for 30 to 40 minutes or until hot and bubbly.
Enjoy the holidays and enjoy your leftovers!
Arkansas Women Bloggers member Mary Wood is a lifetime lover of words. She hails from the suburbs of Nimrod, Arkansas where she is co-owner and number one stacker of wood in her family's sawmill. She loves playing in the dirt and raising a zoo-load of animals on their family farm. Her passions include living life with her husband Steve, son Caleb and all-grown-up daughters Rebecca and Rachel and son-in-law Matt. Homeschooling, writing women's Bible studies, and renovating their home fill up the remainder of her time.