My parents have a farm, and I know my mom is the glue that holds everything together. Hearing from the perspective of the farmer's wife is always interesting to me. Susan Anglin is a fantastic example. You should check out her blog The Spotted Cow Review here. Now, check out what Susan is up to on the farm. Isn't the cow ornament from her tree adorable?
Holiday Butter Tradition
by Susan Anglin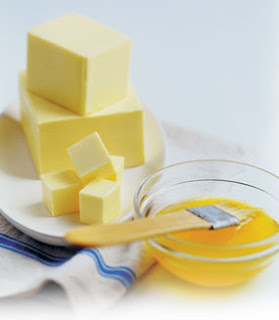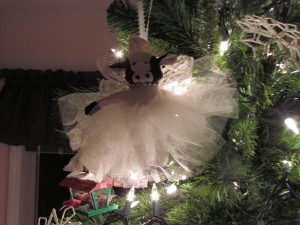 Although I use butter year round, baking with butter is part of my holiday tradition in the kitchen. My schedule is busy year round with farm, family and volunteer activities, but I will always find time to make special desserts that my family and friends enjoy.
As I studied the pile of laundry, the dirty house and the stack of unopened mail facing me after returning from attending the Arkansas Farm Bureau Convention, I then remembered the Sunday School Christmas party that was planned for the next day. What's a dairy mom to do? Get the recipe box out and start looking for something easy, quick and delicious!
In case you find yourself in this situation, I'm sharing one of my favorite recipes with you. Butter, of course, is the main ingredient in Almond Cake Squares that provides the rich flavorful taste. It is a great recipe for any event and looks pretty when cut into squares and presented on a fancy pedestal cake stand or festive holiday plate. Santa might even enjoy these with a glass of milk!
Almond Cake Squares
2 eggs
1 cup sugar
1 cup flour
1 cup melted butter
Almond Topping
Combine eggs and sugar; beat with electric mixer until thick and lemon colored. Stir in flour and butter; pour batter into greased and floured 13″ x 9″ x 2″ pan. Bake at 350 degrees for 30 minutes. While cake is baking, prepare Almond Topping.
Spread Almond Topping over cake; broil cake 4 inches from heat 3-5 minutes or until top is golden brown and bubbly. Cool on wire rack; cut into 2 inch squares. Yield: 2 dozen
Almond Topping
½ cup butter
½ cup sugar
½ cup sliced almonds
1 tablespoon flour
1 tablespoon milk
Combine all in small saucepan; cook over low heat, stir constantly till sugar is dissolved and mixture thickens.