Potatoes are a staple at my house. In fact, I like to think my Irish grandmother is responsible for my love of a good potato. This is a recipe I had never tried, and I'm so glad I found it. Thanks Pinterest! Do you have a favorite potato recipe? Comment on this post, and let me know your favorite potato recipe. It just might make its debut in my kitchen and on Taste Arkansas.
Did you know the Arkansas-based company J.B. Hunt is one of the largest transportation logistics companies in North America? 
Ingredients
4 medium potatoes, scrubbed (leave skin on)
4 cloves of garlic, thinly sliced
olive oil
salt
pinch of smoked paprika
2 tablespoons grated Parmesan cheese
chopped chives for garnish, optional
Directions
Preheat the oven to 425˚F. Slice each potato crosswise at 1/8-inch intervals, cutting to within 1/4 inch of the bottom. Be careful not to slice all the way through. The potato will fan out a bit as it bakes.
Lay the potatoes on a baking sheet. Generously rub olive oil on the potatoes, making sure to get it between the slices. Sprinkle on salt, paprika, Parmesan and garlic.
Bake for about 40-45 minutes. The inside should be cooked through, and the outside of the potato should be a bit crispy. Garnish with additional Parmesan and chives.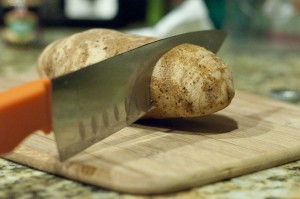 Be careful not to slice all the way through the potato.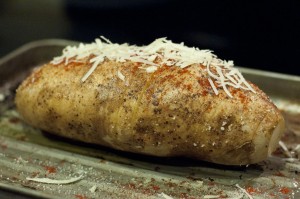 Add oil, Parmesan, garlic and paprika. Then, bake to perfection.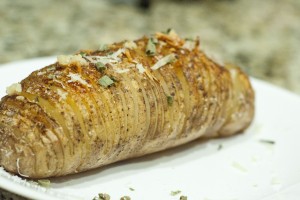 Now that looks like my kind of potato.