Happy Fourth of July! As you celebrate Independence Day sip on this tasty cocktail called Low Country Lemonade. Looking for a mocktail so the kids can celebrate too? I used Glacier Freeze-flavored Gatorade, but you can also use the Cool Blue flavor. Garnish these blue drinks with a red and white straw for the perfect drink to sip while watching fireworks.
Did you know farm and ranch families comprise just two percent of the United States population?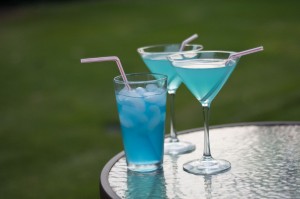 Ingredients:
1 ounce peach schnapps
1 ounce vodka
8 ounces lemonade
2 teaspoons of blue curacao
sugar for glass rim, optional
lemon wedge, optional
ice
2 martini glasses
2 red and white straws
Directions:
Rub a sliced lemon wedge around the rim of your glass and coat with sugar. Fill martini shaker with ice. Pour schnapps and vodka into shaker. Add two teaspoons of blue curacao and top with lemonade.  Shake. Pour into martini glasses. Garnish with red and white straw. Serve immediately.