by Arkansas Women Bloggers member Lyndi Fultz of nwaFoodie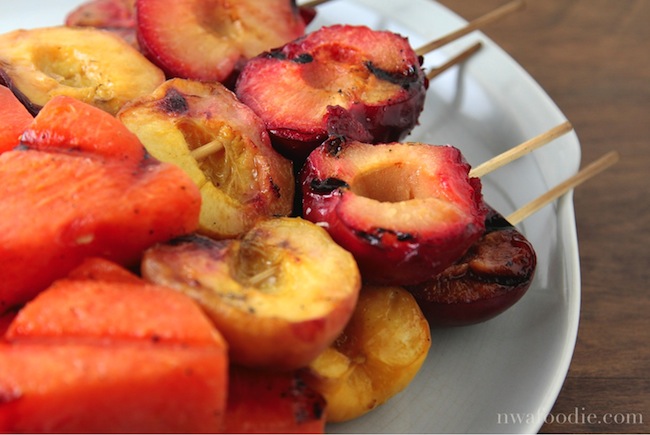 Summertime is grilling time. A popular side dish to grilled foods is grilled fruit. Yet many people who've tried grilling pineapple are stumped when asked what other fruits would taste delicious if grilled.
The inspiration for this side dish came when I visited Vanzants, our local peach farm. Last year's opening date was delayed due to a less than optimal wet spring. This year, however, the doors opened right-on-time and bushels of peaches are on daily display, just begging to be canned, jammed, eaten and grilled.
This recipe is super easy and doesn't need a lot of fuss and fanfare. The idea is to enjoy the fruit in its natural state and allow the heat to bring out the best from within. Coated with a little bit of olive oil and finished with a flaky sea salt, it doesn't get much better or easier than delicious local in-season fruit.
Grill on!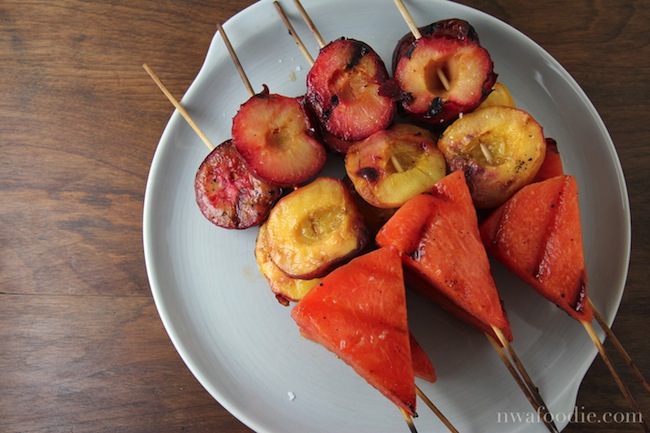 GRILLED FRUIT SKEWERS
Makes 6 hearty skewers
Ingredients
3 peaches, pitted and cut in half
3 plums, pitted and cut in half
6 pieces of watermelon, 1 inch thick and approximately 3 inches wide
1 tablespoon extra-virgin olive oil
Maldon flaky sea salt or coarse sea salt
Instructions
Soak six wooden skewers for 30 minutes.
Fully coat each piece of fruit with olive oil.
Heat grill to 375 degrees F.
Pierce fruit with skewer in this order: plum, peach and watermelon.
Grill three minutes on each side or until nice grill marks are visible.
Remove from heat and finish with a sprinkling of sea salt and serve.
Eat well, my friends.
Lyndi
Arkansas Women Blogger memberLyndi Fultz writes about living and eating well from her life in beautiful Northwest Arkansas at nwafoodie. Much of her blogging inspiration comes from this gem of a place, which she refers to as the proverbial land of milk-and-honey. Read more related to cooking, entertaining, gadget suggestions, ingredient explorations, local finds, local restaurant treasures, kitchen tour spotlights, and always with a healthy and simplistic approach.