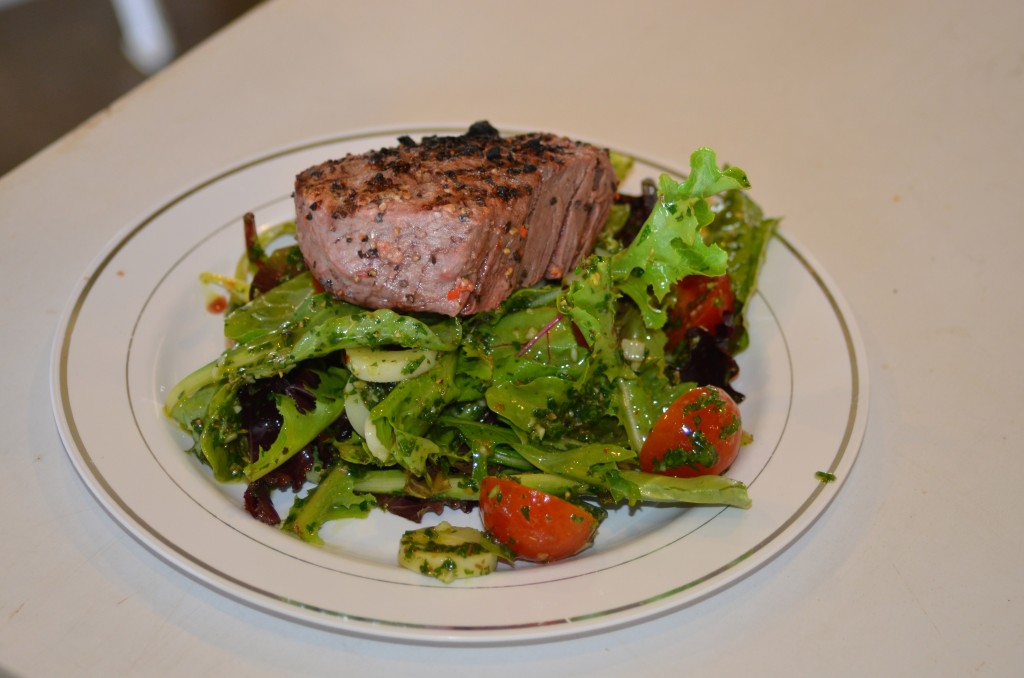 I spent last Saturday at one of the Winrock Institute's cooking classes on Petit Jean Mt. It was the "Sizzling Summer Steaks" class taught by Chef Brandon Douglas. My 15-year-old son, George, and I were there to pick up some tips for our next Boy Scouts outing. Chef Douglas, who later this month will take over as the head chef at Arkansas Children's Hospital, didn't disappoint.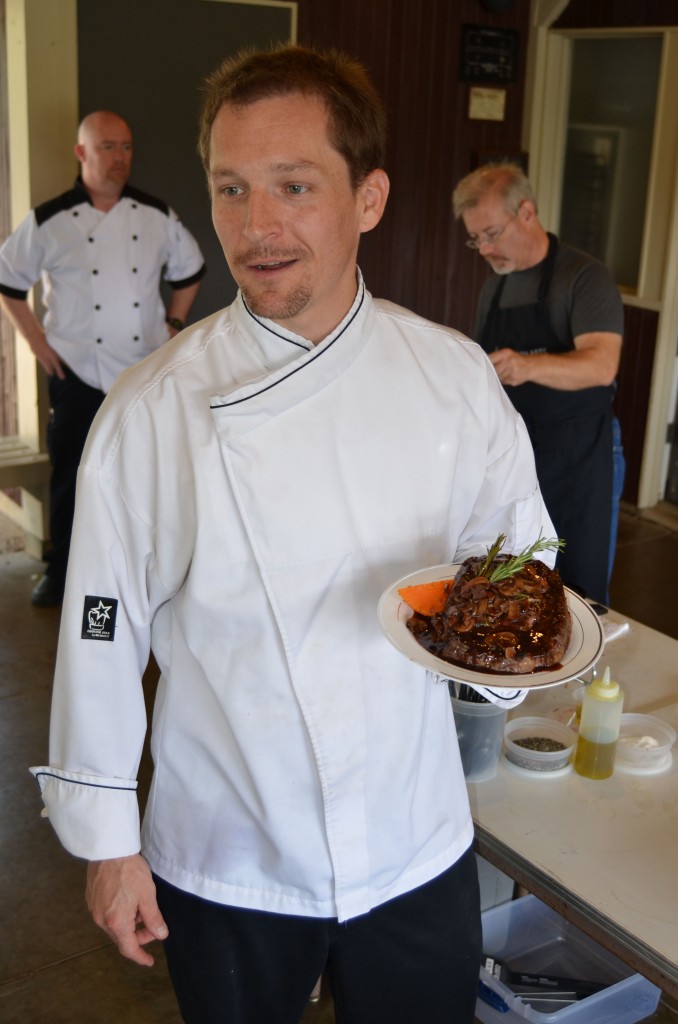 Check out these recipes for Grilled Beef Tenderloin and Chimichurri Vinaigrette Salad. The combination is incredibly good. The Institute offers cooking classes monthly with Arkansas chefs, so take advantage of learning from some of the best. Go to the Winrock Institute website for more information. George and I will definitely be going back.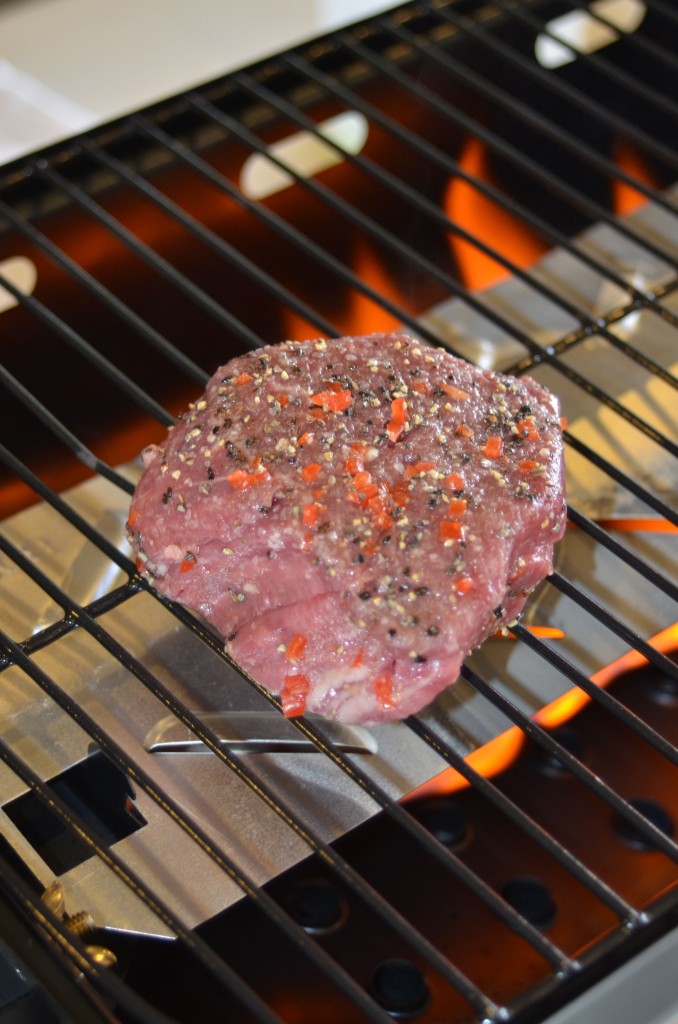 Grilled Beef Tenderloin
Ingredients
Four 4-ounce portions of beef tenderloin
1 tablespoon olive oil
1 teaspoon minced garlic
1 red bell pepper cut brunoise style (1/8 x 1/8″ square pieces after removing the seeds and bitter inside flesh and then removing the pepper's skin like filleting a fish)
salt and pepper
Directions
Rub beef tenderloin with olive oil, garlic and bell pepper. Season each side with salt and pepper. Grill on high heat until reaching desired completeness.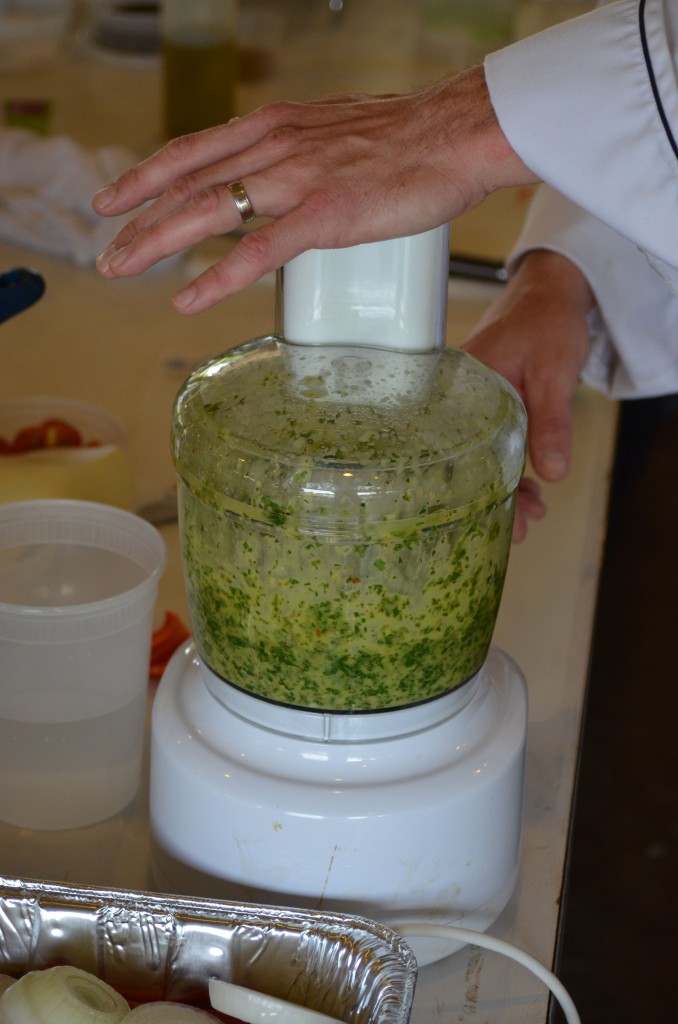 Chimichurri Vinaigrette
Ingredients
1 cup firmly packed, fresh flat-leaf parsley trimmed of thick stems
3 to 4 garlic cloves
2 tablespoons fresh oregano leaves (can substitute 2 teaspoons dried oregano)
1/2 cup olive oil
2 tablespoons red or white wine vinegar
1 teaspoon sea salt
1/4 teaspoon freshly ground black pepper
1/4 teaspoon red pepper flakes
Salad lettuce
Hearts of palm (available canned)
Cherry tomatoes
Directions
Finely chop 1/2 of parsley, fresh oregano and garlic. Place in a food processor and pulse. Turn processor on high. Add vinegar, salt, pepper and red pepper flakes. Add olive oil, slowing until mixture forms. Adjust seasonings with salt and pepper, and add remaining parsley (be sure to trim away the stems). Dressing can be refrigerated or used immediately on your favorite salad lettuce mixture garnished with sliced hearts of palm and halved cherry tomatoes.
Did you know? The average per capita food expenditures in the U.S. is $4,229.