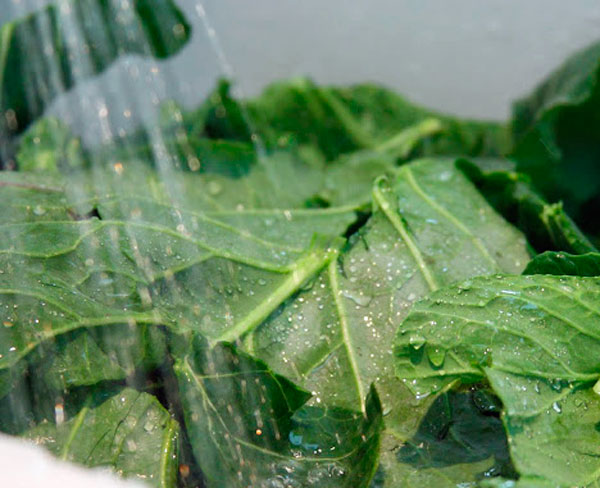 Here in the South, we love our greens. And, lucky for us, they're highly nutritious. They have been a tradition in Southern kitchens, holding a special place at our tables for more than a century.
When using greens, the main thing to learn is how to properly clean them. Trust me, you don't want to serve grainy, dirty greens. You might still be hearing about it 15 years later.
Washing greens is time-consuming but well worth the effort.
First, fill your sink or a large container half-way with cool water. Immerse the greens in the water and swirl them around for half a minute or so. Be careful to not swirl so much you bruise them.
Transfer the greens from the sink to a strainer. Check the bottom of the sink for grit. If there is any, repeat the process until there is no sand left in the bottom of the sink.
Take note: simple rinsing does not do an adequate job of dislodging the more stubborn deposits of sand. Swishing in the bath water is the best way to dislodge that pesky sand.
Grab a mess o' greens and try this Southern Collards recipe.
Ingredients:
1 tablespoon olive oil
1 slice Petit Jean Hickory Smoked Bacon, cut into 1-inch pieces
2 pounds red onions, thinly sliced
1 tablespoon garlic, minced
8 cups water
2 cartons chicken broth (32 ounce)
2 pounds chopped fresh collards
¾ cup red wine vinegar
¼ cup diced chipotle peppers in adobo sauce
1 teaspoon salt
Instructions:
In a large Dutch oven, heat olive oil over medium heat. Add bacon and cook stirring frequently for 8 to 10 minutes or until browned.
Add onion and garlic. Cook, stirring occasionally.
Add 8 cups water, chicken broth and collards.
Bring to a boil over medium-high heat.
Reduce heat, cover and simmer for about 30 minutes, stirring occasionally. Uncover and cook another 30 minutes.
Stir in vinegar, peppers and salt.
Remember to make a cast-iron skillet of cornbread to dip into the potlikker. Potlikker is the highly concentrated, vitamin-filled broth that results from the long boil of the greens. It will cure what ails you.