By Arkansas Women Bloggers member Tiffany Selvey of Songbird Gardens
About 10 years ago, pasta companies responded to public demand for an alternative option to white flour – whole grain pasta – which was at best edible but not really enjoyable. Years after those first attempts at alternative pasta options, there are much better choices. With the rise in celiac disease and gluten sensitivities, there really is a need for alternatives to white pasta. My husband and I both have gluten sensitivities, so we're thankful for the creation of the corn and rice pasta blend which offers the taste and texture of classic white pasta but with fewer ingredients and no gluten. I'm grateful for these tasty pastas, because I'd hate to go without my favorite summer dish – pasta salad.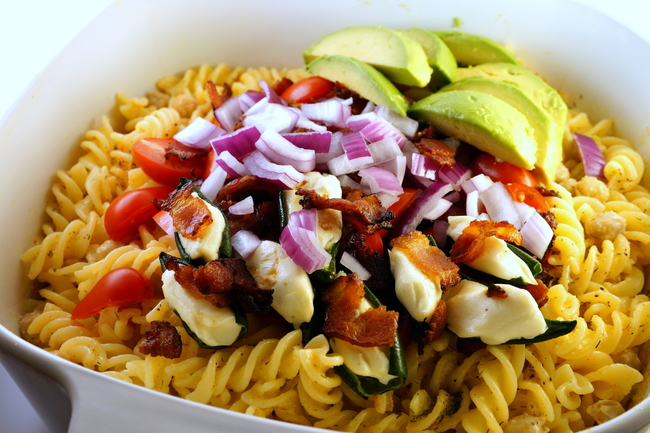 Gluten-free Summer Veggie Pasta Salad
This recipe is extra-large for a main course or to take to a potluck. Cut the recipe in half for a standard side-dish
Ingredients
24 ounces gluten-free pasta, cooked and rinsed in cool water
1 (12 ounce) can garbanzo beans (chick peas) drained and rinsed
8 ounces cherry tomatoes sliced in half
1 small cucumber, peeled and diced
½ cup chopped red onions
8 slices cooked bacon, crumbled and drained
1 cup mayonnaise
1 tablespoon garlic powder
1 tablespoon onion powder
½ teaspoon paprika
1 teaspoon dry dill
Salt and pepper to taste
Optional toppings: avocado, fresh herbs (cilantro, parsley or basil), add a boiled egg to make this a main course.
Instructions
Place the cool, drained pasta in a large bowl. Add mayo and garlic powder, onion powder, paprika and dill and combine well until the pasta is evenly coated.
Top the pasta with all remaining ingredients. Keep chilled and toss ingredients together before serving.
I love this recipe as an alternative to store-bought pasta salad. Whether this is a main course, side dish or part of the church potluck (keep it cold) this gluten-free pasta salad will keep taste buds and digestive systems happy.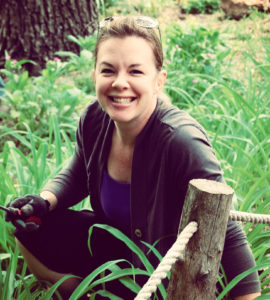 Tiffany Selvey is a Master Gardener who writes about her passion for growing, cooking and living naturally. When she's not elbow deep in soil, she enjoys raising a very active son, laughing with her husband, and wrangling their pets.