One of my favorite things about the Christmas season is the emphasis on giving. I love to give! We find all kinds of great causes to help and just love looking for opportunities to reach out to others. Our family would give gifts to everyone if we could. But in reality, our resources only go so far, so we have come up with some creative ways to give to others during the Christmas season.
One of my favorite (relatively) inexpensive things to give is cookies. Who doesn't like a big, luscious, flavorful cookie? (We love to focus on BIG!) You can wrap up one BIG cookie in a festive package and have a BIG holiday impact. Here's one of my favorite BIG cookies to give at Christmastime.
BIG Cranberry Christmas Cookies with White Chocolate Chips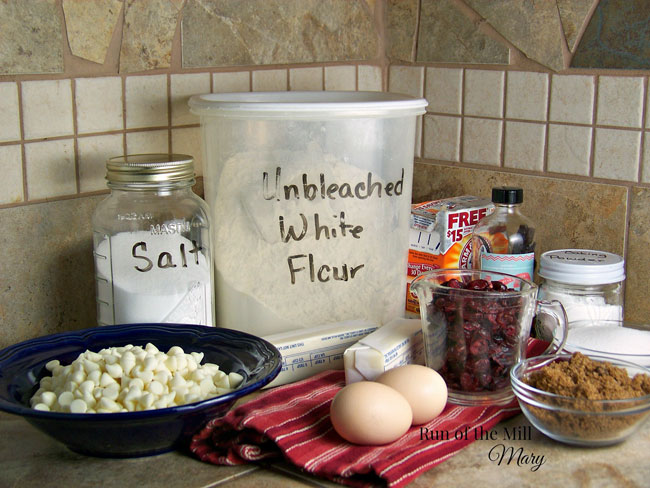 Ingredients:
1 cup butter
1 cup sugar
1 cup brown sugar
2 eggs
1 teaspoon vanilla
3 cups flour
1 teaspoon salt
½ teaspoon baking powder
½ teaspoon baking soda
2 cups white chocolate baking chips
1 cups dried cranberries
Directions
Preheat oven to 375 degrees.
Line 2 baking sheets with parchment.
Cream butter, sugar, brown sugar, eggs and vanilla together in big mixing bowl.
Add flour, salt, baking powder and baking soda. Stir until smooth.
Add chocolate chips and dried cranberries.
Make approximately 12 cookie dough balls that look like this: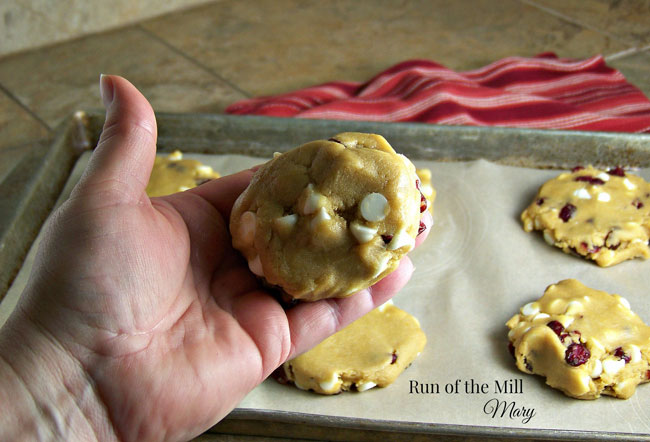 Flatten cookie dough balls slightly.
Bake for 15 to 20 minutes.
Allow cookies to cool on cookie sheets for 10 minutes.
Makes one dozen BIG cookies.
Recipe can be doubled, tripled or multiplied as far as you wish.
Wrap and decorate or eat and enjoy!
 Arkansas Women Bloggers member Mary Wood is a lifetime lover of words. She hails from the suburbs of Nimrod, Arkansas where she is co-owner and number one stacker of wood in her family's sawmill. She loves playing in the dirt and raising a zoo-load of animals on their family farm. Her passions include living life with her husband Steve, son Caleb and all-grown-up daughters Rebecca and Rachel and son-in-law Matt. Homeschooling, writing women's Bible studies, and renovating their home fill up the remainder of her time.