Our first president set the standard, teaching us the value of telling the truth when he admitted he'd chopped down the cherry tree when confronted about it by his father. An example we should all still live by today.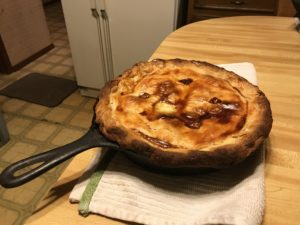 Ingredients
Two 15-oz. cans of Oregon Specialty Fruit dark sweet cherries in corn syrup
3 tablespoons of corn starch
1 tablespoon of lemon juice
¼ teaspoon of almond extract
Butter
One box of ready-made pie (2) crusts
1 egg white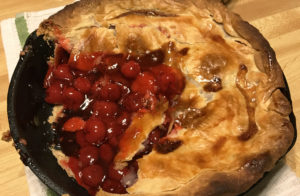 Directions
Preheat oven to 350 degrees F.
Place one pre-made pie crust in bottom of a 9-inch iron skillet or 9-inch pie dish. Combine in a sauce pan the cherries with the liquid, reserving some of the liquid on the side to combine with the corn starch. Mix in cornstarch until it's dissolved. Then combine it along with the lemon juice and almond extract into the cherries mixture. Add mixture to the iron skillet or pie dish and dot the top of the mixture with pats of butter. Cover with second pie crust. Brush the pie top, covering it with some of the egg white. Then sprinkle the top with crystals of raw natural turbinado sugar. Bake for 30-40 minutes. The egg wash will brown during baking. Enjoy with a dollop of whipped cream or a scoop of vanilla ice cream.