by Arkansas Women Blogger member/co-editor Julie Kohl of EggsandHerbs.com
Summer is a great time to enjoy the bounty of the harvest. Even if you are not a gardener, chances are you have a neighbor with an abundance of produce. If not, farmer's markets and roadside farm stands abound this time of year.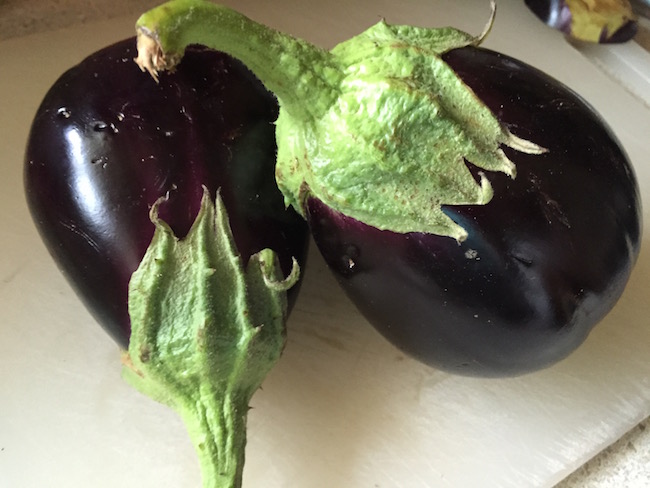 High summer brings two of my favorite summer foods: eggplant and watermelon. At first, these two foods don't seem like they would pair well together but they truly do. Bring together the sweetness of the watermelon and the salty, earthy flavor of the fried eggplant by topping them with a simple balsamic reduction. A balsamic reduction is slightly tart but mostly sweet and is also great spooned over strawberries, grilled peaches and just about any kind of fruit.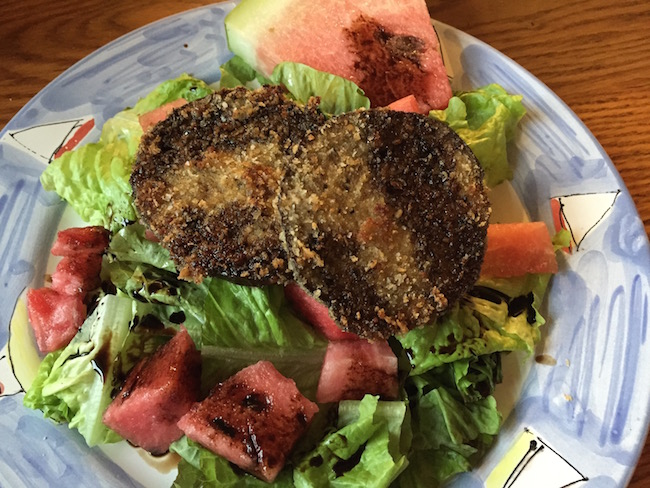 This fried eggplant and watermelon salad is a great summertime supper. It is filling, yet cool and delicious. Enjoy it with an ice-cold glass of sweet tea or lemonade.
Fried Eggplant and Watermelon Salad with Balsamic Reduction
Ingredients:
1 small eggplant, sliced
1 egg
1 cup bread crumbs (I like panic-style bread crumbs.)
Canola oil
1 cup balsamic vinegar
Watermelon, cubed
Fresh greens (I used leaf lettuce, but mixed greens or baby spinach are great too.)
Red onion, sliced (optional)
Feta cheese, crumbled (optional)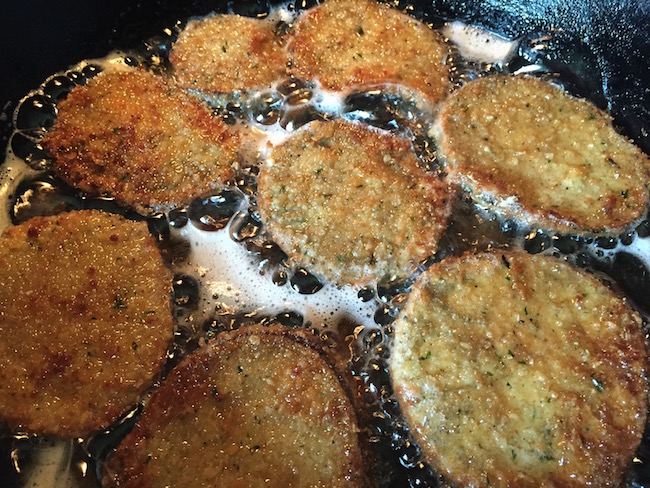 For the fried eggplant:
Heat about 1/4 of an inch of oil in a cast iron skillet. Any size skillet will work, but the larger the better.
Beat an egg in a shallow dish. Pour the breadcrumbs into a separate shallow dish.
Slice the eggplant into 1/4-inch thick slices.
Dip each slice of eggplant into the beaten egg and then into the breadcrumbs.
Fry the eggplant in batched for 2-3 minutes per side, until golden brown.
Move the fried eggplant to a plate lined with paper towels and sprinkle with salt.
For the balsamic reduction:
Pour 1 cup of balsamic vinegar into a small saucepan.
Bring the vinegar to a boil and allow it to cook for 15-20 minutes until reduced by half.
Allow the reduced vinegar to cool. It will thicken slightly as it cools.
For the salad:
Arrange greens on a large dinner plate.
If desired, add a few sliced of red onion and some crumbled feta cheese.
Place 1/2 a cup or so of cubed watermelon on top of the salad.
Top each salad with two slices of fried eggplant.
Spoon on one tablespoon of the reduced balsamic vinegar.
Enjoy!