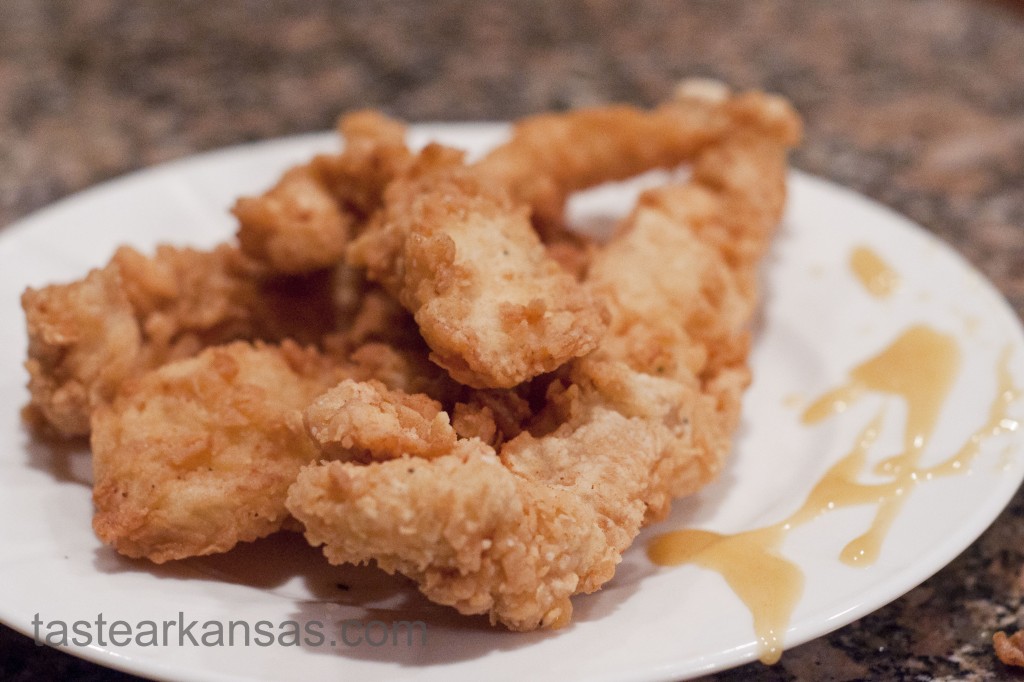 Remember the Fried Pickles recipe I shared last week? Well, I converted it to a Fried Chicken Strip recipe sure to please the whole family. It's pretty simple to make. If you visit Taste Arkansas often, you probably know I'm a huge fan of Cavender's Greek Seasoning. So, it's my go-to for this type of recipe.  If you prefer a different seasoning mix, don't be afraid to substitute it.
Did you know that Springdale, Arkansas is home to Tyson Foods, the largest poultry processor in the United States?
Ingredients
2 cups all-purpose flour
1/2 teaspoon salt
1/4 teaspoon pepper
½ teaspoon Cavender's Greek Seasoning
¼ teaspoon cayenne pepper
2 large eggs
1 cup whole milk
1 pound chicken breast strips, raw
vegetable oil for deep-fat frying
Honey mustard, optional
Directions
In a shallow bowl, combine the flour, salt, pepper, Cavender's and cayenne pepper.  In another bowl, beat eggs and milk.
Blot chicken strips with paper towels to remove moisture. Coat strips with flour mixture, then dip in egg mixture; coat again with flour mixture.
Meanwhile, in an electric skillet or deep-fat fryer, heat oil to 375°.
Fry chicken strips, about three at a time depending on your pan size, for 5 minutes or until golden brown, turning once. Drain on paper towels. Serve warm with honey mustard if desired.