As promised, here is another fabulous recipe from Keith 'Catfish' Sutton to celebrate catfish month.
This recipe will feed a dozen or more people at your next home fish fry. The hot sauce/milk marinade adds a nice piquant flavor to the catfish without making it spicy hot.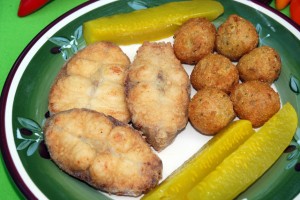 Ingredients:
6 pounds farm-raised catfish steaks and/or fillets
3 (3-oz.) bottles Louisiana hot sauce
12 cups milk
3 cups yellow cornmeal
1 cup flour
2 tablespoons salt
1-1/2 teaspoons cayenne pepper
1-1/2 teaspoons garlic powder
Peanut oil
 Directions
Marinate catfish 1 to 2 hours in a mixture of hot sauce and milk. Remove fish and drain.
Combine the dry ingredients in a large plastic bag. Add the fish a little at a time and shake to coat
Cook the fish in 2 inches of peanut oil in a deep fryer heated to 365 degrees. Fry until the thickest part of the fish flakes easily with a fork, about 5 to 6 minutes. Remove and drain on paper towels. Repeat with remaining fish. Serves 12-15.