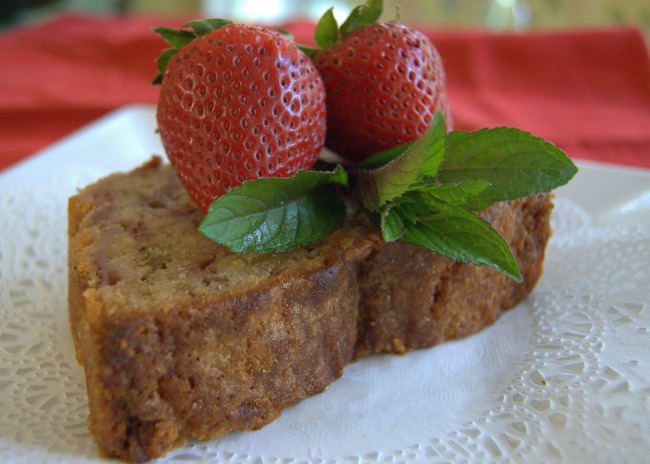 Arkansans are passionate about their tomatoes, peaches and, especially, their strawberries. I may be doubly so. It seems that I wait through all the days of autumn, winter and most of spring for that first strawberry to ripen on the vine.
One crate of fresh berries soon becomes two, then three or more. There will be Strawberry Freezer Jam and Strawberry-Habanero Jam both of which our family loves. I don't even think about making Fresh Strawberry Pie with anything other than Arkansas berries. It just isn't the same, otherwise.
This Fresh Strawberry Bread uses Arkansas berries to their fullest flavor, and it stays incredibly moist for days. I like to make several loaves when strawberries are in season and freeze them.
FRESH STRAWBERRY BREAD WITH STRAWBERRY CREAM BUTTER
2 loaves
Total time: 3 hours, including cooling
• 3 cups self-rising flour (I use King Arthur or White Lily.)
• 1 teaspoon cinnamon
• ½ teaspoon baking soda
• ½ cup unsalted butter
• 4 eggs
• 2 cups granulated sugar
• 1 cup canola or coconut oil
• ¼ cup sour cream
• Fine zest of 1 lemon
• Juice of 1 lemon
• ½ teaspoon strawberry extract
• 1 teaspoon vanilla extract
• 4 cups roughly chopped fresh strawberries
• ¾ cup chopped walnuts or pecans, toasted
• ½ cup all-fruit strawberry jam, optional
1. Preheat oven to 350 degrees.
2. Grease two 9 x 5-inch loaf pans with butter or nonstick spray; set aside. This bread has a tendency to stick if the pans are not greased well and the loaves allowed to cool completely.
3. In a large bowl, whisk together the flour, cinnamon and baking soda; set aside.
4. In a large mixing bowl, cream together the butter, sugar, eggs, canola oil, sour cream, lemon zest, lemon juice, strawberry extract and vanilla extract.
5. Gently fold the wet ingredients into the dry ingredients just until moistened.
6. Fold in the strawberries and nuts and pour the batter into the prepared pans.
7. If using the jam, spoon ¼ cup on top of each loaf and swirl into the batter.
8. Bake 65-70 minutes until a toothpick inserted in the center comes out clean.
9. Cool in the pan 10 – 15 minutes on a wire rack; remove from the pans and cool completely before slicing and serving.
10. This bread freezes well and will keep for 3 months if wrapped securely.
11. Serve with Strawberry Cream Butter.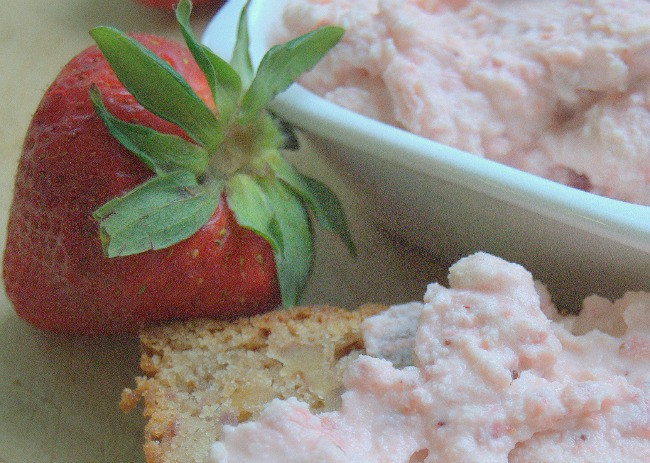 STRAWBERRY CREAM BUTTER
• 3 ounces cream cheese, at room temperature
• ½ cup unsalted butter, at room temperature
• ¼ cup honey
• ½ cup chopped fresh strawberries
1. In a small mixing bowl, cream together the cream cheese, butter and honey.
2. Stir in the chopped strawberries, slightly mashing as you stir.
3. Serve at room temperature with the Fresh Strawberry Bread, homemade biscuits or toast.
4. Store in the refrigerator or freeze.
Serve with Fresh Strawberry Bread or on your favorite homemade biscuits. It also makes a nice addition to pancakes.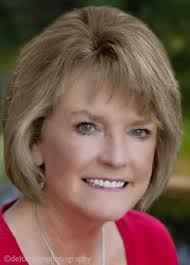 Arkansas Women Blogger member and co-administrator Debbie Arnold pontificates and eats at Dining With Debbie. She and her Hubby split their time between Central and Northwest Arkansas. She loves to cook, develop recipes and have play dates with her two perfect grands. Mostly, she has play dates with the Perfect Ones.