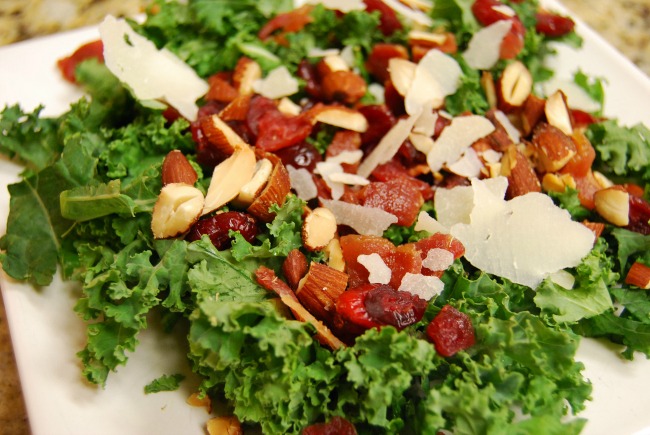 Dishes that include the nutritious powerhouse kale often take center stage on my dinner table. This salad, which combines a maple-balsamic vinaigrette, bacon, smoked almonds and shaved Parmesan with the kale, is one of our favorites. It's surprisingly simple and will surely become a favorite at your dinner table, too.
While we grow kale in our home garden, we grow it primarily as a baby green in early spring and summer and depend upon our local markets to keep us supplied otherwise. Fortunately, kale is readily available in most Arkansas farmers markets and groceries.
It can be curly or flat and can even take on a blue-green tint with each type having a slightly different taste. The two types I see most frequently at the market are curly and Lacinato (dinosaur). The Lacinato is slightly sweeter and has a more delicate taste.
Kale Salad with Maple-Balsamic Vinaigrette, Bacon, Smoked Almonds and Shaved Parmesan

Makes 4 servings
For the vinaigrette:
4 tablespoons grapeseed oil
3 tablespoon white balsamic vinegar
4 teaspoons pure maple syrup
Freshly cracked black pepper
Salt
1-2 teaspoons bacon grease, optional
In a small bowl, whisk together grapeseed oil, white balsamic vinegar and maple syrup. Season dressing with salt and pepper to taste. If desired, replace part of the grapeseed oil with bacon grease for a more pronounced bacon flavor. Just before serving, warm for a few seconds in the microwave.
For the salad:
8 cups chopped kale, stems removed
6 slices of Petit Jean hickory smoked bacon, fried until crisp, set aside
¾ cup coarsely chopped smoked almonds
¾ cup shaved Parmesan
Freshly cracked black pepper
1 red pear, coarsely chopped, optional
Divide kale evenly among four salad plates. Crumble the slices of bacon over the top of each kale serving. Garnish evenly with the coarsely chopped smoked almonds and shaved Parmesan. Add pear, if using. Pour warm vinaigrette over each salad and season with freshly cracked black pepper.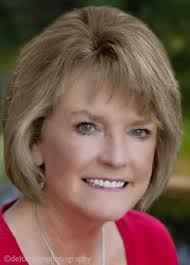 Arkansas Women Blogger member and co-administrator Debbie Arnold pontificates and eats at Dining With Debbie.  She and her Hubby split their time between Central and Northwest Arkansas.  She loves to cook, develop recipes and have play dates with her two perfect grands.  Mostly, she has play dates with the Perfect Ones (shown above).