One of my favorite meals to make on a lazy weekend morning is a frittata. I call it a frittata. However others may call it a torta or a tortilla. The basic ingredients are eggs, vegetables and potatoes. My take on the frittata eliminates the potatoes but keeps the eggs and veggies as the focal point. That works for me, how about you?
I got to wondering what it would be like to make a frittata based entirely on what was available at the farmers market. OK, I know there would be a few items we couldn't find at the market such as salt and pepper and maybe a spice or two.
So, I call this the Farmers Market Frittata. It's delicious, locally focused and easy to pull together for a weekend brunch or weeknight meal. Best of all, you can support your local farmers.
FARMERS MARKET FRITTATA
Serves 8 or makes 16 bite-sized wedges for appetizers
Ingredients
2 tablespoons salted butter
1 medium spring onion or sweet onion, cut in half and thinly sliced
1 cup of finely chopped shitake mushrooms
1 garlic clove, minced
1 tablespoon of water
9-oz. bag of fresh spinach
5 eggs
3 tablespoons parsley finely chopped
¼ teaspoon sea salt
½ teaspoon ground pepper
1/8 teaspoon cayenne pepper
2 ounces goat cheese or shredded Parmesan cheese
Chopped pickled jalapenos as garnish (optional)
Instructions
1. Sauté onions in butter in 9" skillet for 5 minutes on medium heat.
2. Add mushrooms and garlic and sauté for additional 5 minutes.
3. Add water to skillet.
4. Add spinach to skillet and cook until wilting, approximately 8-10 minutes.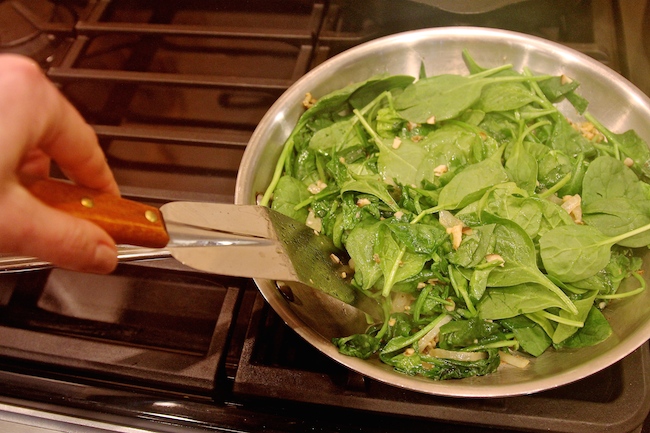 5. In a small bowl, hand whip eggs with parsley, cayenne, salt and pepper for 5 minutes.
6. Preheat boiler to 500 degrees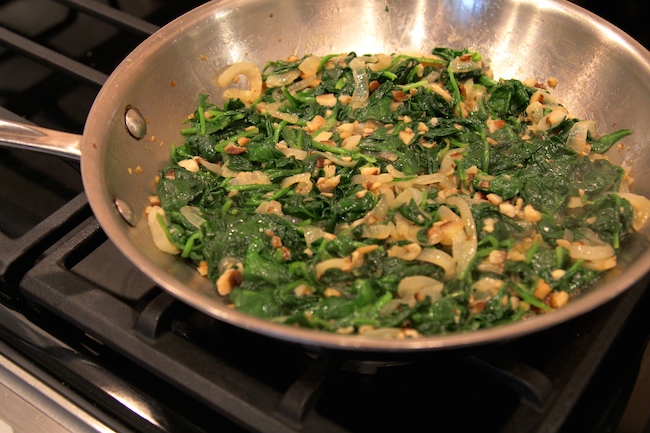 7. Add crumbled goat cheese or Parmesan cheese to skillet as topping.
8. Remove skillet from stove and place under broiler for 2 minutes until cheese is melted.
9. Remove from broiler and let sit for 5 minutes.
10. If serving as meal, cut into 8 wedges. If serving as appetizer, cut into 16 wedges.
11. Top with jalapenos for an added kick and visual interest.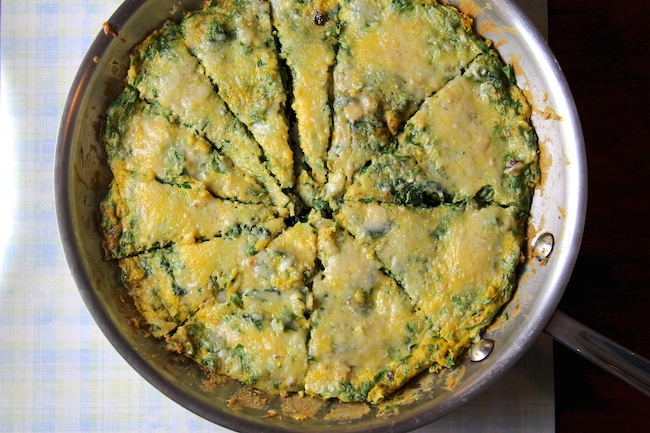 Eat well, my friends.
Lyndi
Arkansas Women Blogger member Lyndi Fultz writes about living and eating well from her life in beautiful Northwest Arkansas at nwafoodie. Much of her blogging inspiration comes from this gem of a place, which she refers to as the proverbial land of milk-and-honey. Read more related to cooking, entertaining, gadget suggestions, ingredient explorations, local finds, local restaurant treasures, kitchen tour spotlights, and always with a healthy and simplistic approach.