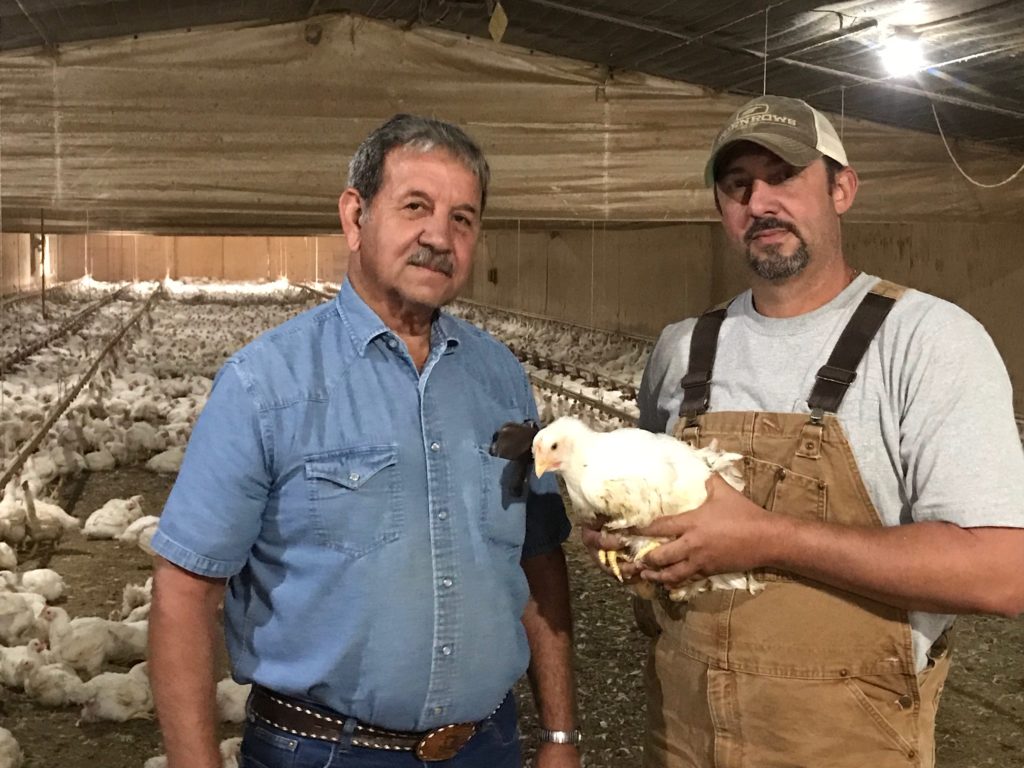 Q & A Conversation with Poultry Farmers O'Neil & Casey Wooten

 O'Neil Wooten is a poultry farmer growing broiler chickens for Foster Farms on his Strong, Arkansas farm in Union County. O'Neil's son Casey and daughter Wendi Laster live on the farm with their families and have their own broiler contracts with Foster Farms. Between them they have 14 houses and work together almost every day. They originally had contracts with Pilgrim's Pride, but in 2009 the poultry company abruptly informed them they were leaving Union County and cancelling their contract, leaving the Wootens and other growers in the county with empty houses and no income. But the Wootens and Lasters found employment off the farm for five years until Foster Farms in Louisiana gave them an opportunity to return to the poultry business. We recently visited with O'Neil and Casey to learn their story and why farming as a family is so important to them.
Q: "O'Neil, I understand you had a secure job with Lion Oil Company years ago that provided income for your family. What led you to leave that and pursue a career as a poultry farmer?
A: (O'Neil) "I worked at Lion Oil for 27 years.  I built these poultry houses in 1993.I continued to work for the oil company for six more years then quit in '99 then and just started strictly doing poultry. I love coming down here like I said, being my own boss basically and doing things like I want to do them. The poultry industry they have different ways to do things, but it's basically a lot different than clocking into a work shift. You know I work 24 hours a day now, I used to work eight but I was working for someone else."

Q: "So you worked for Pilgrim's Pride for about 10 years until the company shut down its operations in Union County. Recall that period and how you survived without an integrator to grow chickens for.
A: (O'Neil) "It was real good I think until 7:00 one morning in the summer of 2009 they called us and told us that was our last batch. We finished growing that batch of chickens and then we were down. We had eight chicken houses between us at the time and nothing to do with them. I went to work back at an oil company, back in the oil fields around Smackover. I got a job testing oil wells, was a good job, best job I ever had probably. Finally, in 2014 Foster called and wanted to know if I was interested in growing chickens for them. I said sure."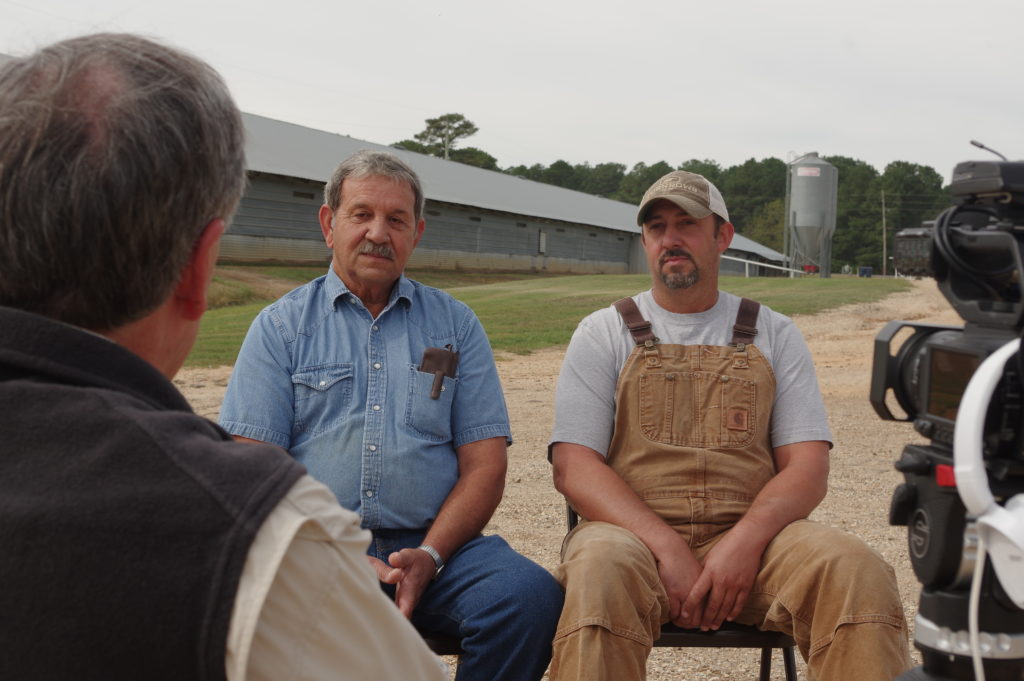 Arkansas Farm Bureau's Ken Moore talks to O'Neil (L) and Casey Wooten (R).
Q: "Casey, when did you decide you wanted to be a contract poultry grower like your father?
A: (Casey) "When you grow up in it, it's just a way of life. It gets in your blood. Farming with your family that tells the story, that's everything. To be able to do that, there's nothing else I want to do. When I got out of college I initially worked for the Georgia-Pacific paper mill in Crossett for several years until they (Pilgrim's) was ready to add more houses on our farm. That was my opportunity to leave the mill and work full time alongside my dad and sister (Wendi Laster and her husband Terry)."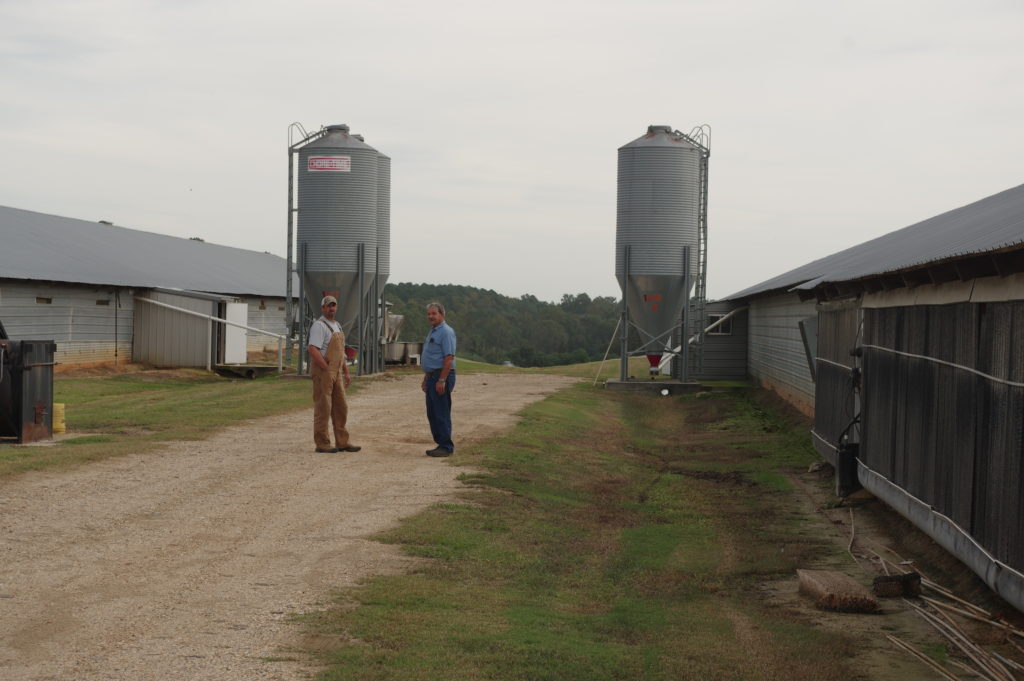 Q: "How did you made do during the period when Pilgrim's pulled out leaving you with empty houses and no income?"
A: (Casey) "I had several jobs during that time but my daughter I think was seven-years-old, and my son was 10. To just go from farming one day and nothing the next. You don't know where you're going to go it's extremely tough. You can't be choosy about where you're going to work. You find a job and go to work and make it work best you can. Luckily we made it through it. We would get a little glimmer of hope that we were back in business and then it would seem like that would just fall through. It was our faith that saw us through. That's the only way you can get through anything like that. I don't know how people that don't (have faith), I don't know how they make it. Because without that faith you really have nothing. And at times your faith gets tried, it gets tested. But we stuck through it until we had the opportunity to grow for a new company."
Q: "What is it about this lifestyle that is so attractive to you?"
A: (Casey) "Here, it's a lot more freedom. It's almost like retirement to me now, but it makes it nice when you enjoy what you're doing and you get to come up with your family every day and sit around and work together. If they need me I'm here, if I need them they're here. That's the way we do it."
A: (O'Neil) "The closeness that our family has. To me that's the main thing. It makes it easier on all of us. We can pretty well do what we want to do. I mean you know if they want to go somewhere they can go, as long as one of us is here on the farm at all times."
Q: "What gratification do you have knowing you are raising healthy chickens and doing your part to help feed the world?"
A: (O'Neil) "We do the very best we can to grow a good bird for whatever integrator we're growing for. If you go in there and take care of your birds like they need to be taken care of – there's three main things on raising birds. Feed, water and air. If you give them plenty of water, plenty of feed and plenty of good air they'll make it. We like to put out good birds, good quality birds because somebody's going to be eating them and we just do the very best we can."
Q: "The Thanksgiving holiday is approaching. A time where we give thanks for the blessings in our lives. What are you thankful for as a poultry farmer?"
A: (Casey) "I'm thankful to be able to do this again every day. I'm thankful to be able to come up here and work with my family, my sister, my dad. I'm thankful that my son wants to follow in my footsteps. He's going through college now and doing really good in college. It's just nice to be back with all them and everybody's just right here. We could have lost everything, I know a lot of people that did lose everything but we were able to hold on and get back again. I have a ton to be thankful for."