by Gregg Patterson
Jimmy Pat Blackburn who farms with his two sons in rural Greene County had no interest in being interviewed for this profile. It wasn't that he was being cantankerous — though sons Justin and Britt say their dad can be that way, well … sometimes. In his return phone call following the interview request, Blackburn recited from a list he'd created. One printed list was "Reasons why JP interview might be interesting." The other printed list he read from was "REASONS NOT TO INTERVIEW JIMMY PAT BLACKBURN." First on the latter list was: "Not a very interesting person."
Blackburn, 75, is a thoughtful and interesting man. He was born on and farms what's known as the old Alexander Plantation. He still maintains the ground of his great grandparent's old home place where he says he goes for "… solitude and reflection." He has a mathematics degree from Arkansas State University, was a college and high school math teacher, worked in the early development of computers and is the seventh generation of the family on his side to farm ("… probably more, haven't researched further back than 1790.") his sons the eighth.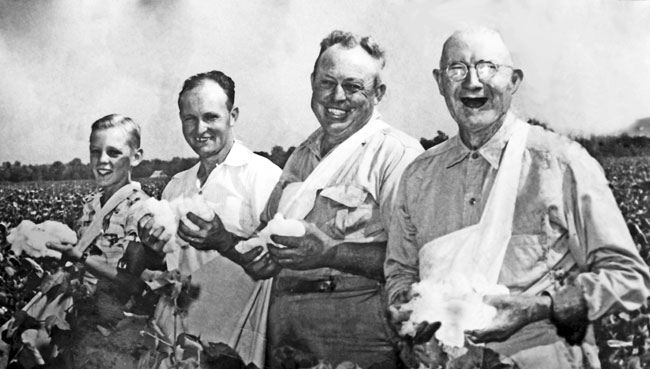 Blackburn claims to "… have most of the junk I have accumulated in 50 years of farming." He prefers to refer to it "… as an unlimited supply of spare parts and repair material. I am the only one who knows where most parts are."
He's never farmed more than 1,200 acres in his 50 years of farming, only once had a new piece of equipment, has predominantly been a dry-land farmer, farms mostly rented land, owned only two new pickup trucks ever, has everything paid off and doesn't have to borrow any money for any part of his farming operation (something he worked hard to finally accomplish).
It didn't come without a price. Blackburn says at 55 he "… had no wife, no cash money and two sons ages 8 and 11 who were completely dependent on me. I had nothing God needed," Blackburn continued, "so I wasn't in any position to bargain with Him. But I made a covenant with God that I wanted to see them grown and that as long as He allowed me to live, I would make it my first priority to raise them to be responsible men and to take them to church every Sunday." He wanted to keep his boys busy and believed the farming life and its strong work ethic gave him the best chance to teach them good values and, hopefully, stay out of trouble. "That worried me, so I wanted to make sure they had the same opportunities I had."
Throughout his career, Blackburn has served Farm Bureau for more than 25 years as a county board member, including as secretary and vice president. When he bought his first car in 1962, he insured it with Farm Bureau.
Blackburn says he's raised nearly every crop suitable for Greene County except rice and fish. He's been an innovative farmer, instituting skip-row cotton farming in 1982 and modifying a four-row cotton picker to pick three rows of the skip-row pattern. He was Greene County no-till farmer of the year in 1985. He got into hog farming when he retired from teaching when his students gifted him with a pig. Even now he and his sons were willing to try something new, growing sesame the past two years. They also lease duck hunting ground.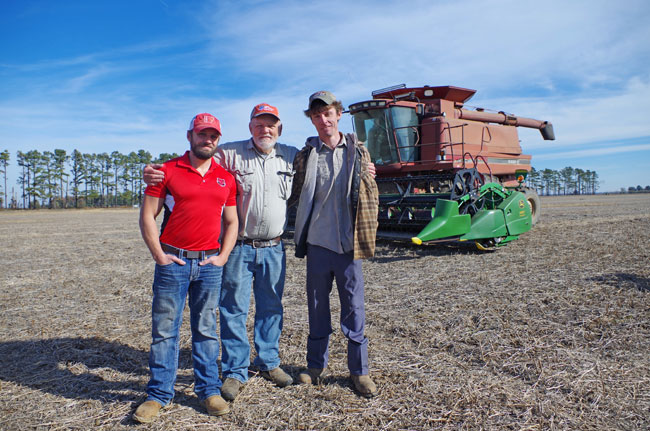 Regarding that covenant with the Almighty, Blackburn said "I kept my promise, and I am very happy to say that I couldn't be any more proud of each of my sons. They still attend church with me even though they are now 28 and 31 years old. I don't have any complaints. It's been a pretty good life."
That's not a bad story from a guy who doesn't consider himself very interesting.