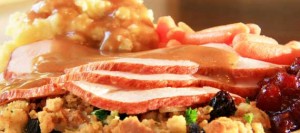 It may not feel like fall just yet, but it's time for our fall issue of Arkansas Farm Bureau's Front Porch magazine (which you can see here). This fall's issue focuses the bountiful harvest of Arkansas farmers that helps fill our holiday tables or football tailgate plates at this time of year.
Whether it's turkey, sweet potatoes and rice dressing for the Thanksgiving table or juicy strips of steak for the tailgating grill, many of our seasonal eats come from farmers, ranchers and distributors right here in the Natural State. To help you cook and eat your way through this delicious time of year, we've put together some helpful tips and recipes from some of the farm families featured in our Front Porch cover story.
How to Prepare a Turkey for Cooking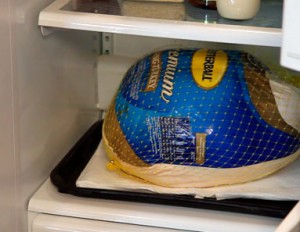 When you bring a fresh turkey home or thaw out a frozen one:
When the turkey is completely thawed, remove the giblets and the neck from the body cavity (usually in a sack inside the bird).
Rinse inside and out with cold water.
Truss the turkey so it will cook evenly, retain moisture and have a compact shape. Here's how.
Step 1: Secure the legs. Some turkeys come with a metal clip. If yours doesn't, use cotton twine (ask your butcher for some).
Step 2: Tuck excess skin down between the breast and the legs, so the skin won't split as the turkey cooks.
Step 3: Lift the tips of the wings up and over the breast, and tuck them under the turkey; secure excess of the neck flap (use a wooden pick if necessary).
Step 4: Line the bottom of the roasting pan with foil for easier cleanup.
Place the turkey on a rack in a shallow roasting pan. If you don't have a roasting pan, use a large foil roasting pan from the supermarket, and place it on a baking sheet for extra support.
Roasting Turkey 101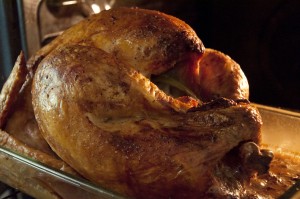 Don't seal turkey with foil or a roaster lid, because it will steam rather than roast. If you choose to use an oven cooking bag, follow instructions on the box for moist, succulentturkey.
Coat turkey with butter or oil to add flavor and help with browning.
Rub turkey skin with salt, pepper, and herbs and spices. Sage, garlic or garlic powder, onion or onion powder, rosemary and thyme are great choices. You can also buy a poultry seasoning mix in the spice section of the grocery store.
Fill the cavity with a half a stick of butter, an onion cut into wedges, and sprigs of fresh parsley, rosemary and/or thyme.
Place a meat thermometer in the thickest part of the thigh (being sure not to touch the bone). The turkey is done when the thermometer registers 180° F. Breast meat, which has less fat, only needs to come to 170°F. It also applies if you're doing a turkey breast rather than a whole turkey. You can estimate cooking time for an unstuffed turkey at 325 degrees will be approximately 15 minutes per pound.
If you're more impressed with moist, juicy turkey than a picture-perfect one, cook the turkey breast-side down. The juices will run down into the breast, making it moist.
Add a cup of water to the bottom of the pan before putting into the oven.
About every 30 minutes, use a turkey baster to drizzle the juices from the pan over the turkey as it cooks.
Allow turkey to stand 15 to 20 minutes before carving.
There are two ways to get that perfectly browned turkey:
Cook the turkey UNCOVERED until it is browned then cover and cook until done.
Granny's Cheesy Broccoli Rice – From Jennifer James, Arkansas rice farmer.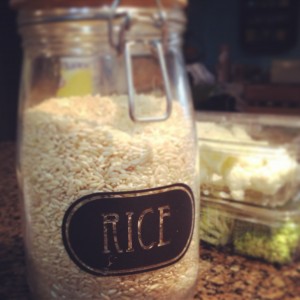 Prep 1 hr ∙ Cook 45 mins ∙ Makes 12 servings
Source: Frances "Granny" Dodge
Ingredients

1 cup long grain white rice
1 red onion, chopped
Celery, chopped
1 stick butter
1 can cream of mushroom soup
1 can cream of chicken soup
2/3 cup milk
1 large package frozen broccoli florets or 2 bunches fresh broccoli
2 cups shredded cheddar cheese
Salt and pepper
Directions
Cook rice according to package directions. Cook onion and celery in butter until translucent. Cook broccoli according to package directions or if using fresh, boil until tender and then chop. In a large mixing bowl, combine soups, milk, rice, broccoli, vegetables and salt and pepper to taste. Place in preheated 350-degree oven for 45 minutes or until hot and bubbly. Garnish with a sprinkle of smoked paprika.
This recipe can be frozen and baked later. Sometimes I bake half and freeze half for another day.
Honey Roasted Sweet Potatoes – From Matthews-Ridgeview Farms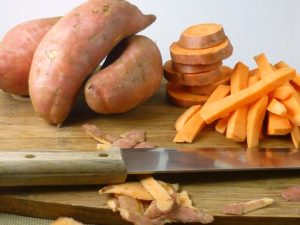 Ingredients
2 pounds red-skinned sweet potatoes
2 tablespoons olive oil
2 tablespoons honey
1 teaspoon fresh lemon juice
½ teaspoon salt
Directions
Preheat oven to 350 degrees.
Peel and cut the sweet potatoes into one-inch pieces and place in a 9' by 13' baking dish. In a small bowl, whisk together olive oil, honey and lemon juice. Pour mixture over potatoes and toss to coat. Sprinkle with the salt and bake (stirring occasionally) for about one hour or until potatoes are tender.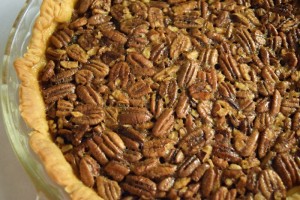 Paw paw's Favorite Pecan Pie – From PawPaw's Pecans/Billy Wilchman

Ingredients
½ cup granulated sugar
1 cup light brown sugar, packed
2 large eggs
1 cup chopped pecans
½ cup (1 stick) butter, melted
2 tablespoons milk
1 tablespoon all-purpose flour
1 ½ teaspoons vanilla extract
One 9-inch deep pie shell, unbaked, or homemade pastry
1 cup pecan halves
Vanilla ice cream or whipped cream
Directions
Preheat oven to 325 degrees F.
In a large mixing bowl, mix the brown sugar, granulated sugar and eggs until creamy. Add the chopped pecans, melted butter, milk, flour and vanilla extract and stir to combine. Pour the mixture into the pie shell. Arrange pecan halves on top of the pie in a circular pattern. Bake the pie for 55 minutes. Check for "done-ness" by shaking the pan slightly. The pie should be firm, with only a slight jiggle in the center. It will set more as it cools. Serve topped with vanilla ice cream or a dollop of whipped cream.
You can purchase some of PawPaw's Pecans by calling Billy Wilchman directly at 501-514-5020 or contacting him through their Facebook page www.facebook.com/pawpawspecans.
Bonus Tailgating Recipe
Classic Beef Kabobs – From the Beef Checkoff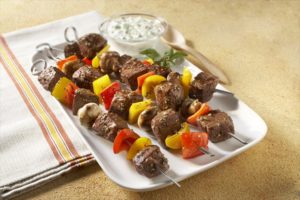 Ingredients
1 pound beef Top Sirloin Boneless or Tenderloin Steaks, cut 1 inch thick
8 ounces medium mushrooms
2 medium red, yellow or green bell peppers, cut into 1-inch pieces
Salt
Seasoning:
2 tablespoons olive oil
1 tablespoon chopped fresh oregano or 1 teaspoon dried oregano leaves
2 cloves garlic, minced
1/2 teaspoon ground black pepper
Cucumber-Yogurt Sauce:
1/2 cup plain yogurt
1/3 cup finely chopped seeded cucumber
2 tablespoons crumbled feta cheese
1 clove garlic, minced
1/4 teaspoon ground black pepper
1/8 teaspoon salt
Directions
Cut beef steak into 1-1/4-inch pieces. Combine seasoning ingredients in large bowl. Add beef, mushrooms and bell pepper pieces; toss to coat.
Alternately thread beef and vegetable pieces evenly onto eight 12-inch metal skewers, leaving small spaces between pieces.
Place kabobs on grid over medium, ash-covered coals. Grill kabobs, covered, 8 to 10 minutes (over medium heat on preheated gas grill, 9 to 11 minutes) for medium rare (145°F) to medium (160°F) doneness, turning once. Season kabobs with salt, as desired.
Meanwhile, combine sauce ingredients in small bowl. Serve with kabobs.
 Test Kitchen Tips
Eight 12-inch bamboo skewers may be substituted for metal skewers. Soak bamboo skewers in water 10 minutes before using; drain.
 To broil, place kabobs on rack in broiler pan so surface of beef is 3 to 4 inches from heat. Broil 9 to 12 minutes for medium rare (145°F) to medium (160°F) doneness, turning once.