P. Allen Smith is an award-winning designer and lifestyle expert and host of two public television programs, P. Allen Smith's Garden Home, P. Allen Smith's Garden to Table and the syndicated 30-minute show P. Allen Smith Gardens. He is the author of the best-selling Garden Home series of books published by Clarkson Potter/Random House, including Bringing the Garden Indoors: Container, Crafts and Bouquets for Every Room and P. Allen Smith's Seasonal Recipes from the Garden. Smith is a regular contributor on NBC's The Today Show and The Weather Channel. Allen took time out of his busy schedule to answer some of my questions about his views on agriculture.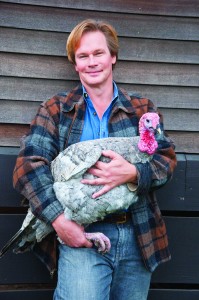 How are you involved in agriculture?
 I'm proud to be part of Arkansas' farming heritage. I love the land, my farm and sharing it in many different ways with Arkansans and the world.
Agriculture at its best is derived from a diverse gene pool of both plant and animal genetics. Every year we trial hundreds of varieties of fruits and vegetables on my farm.  Additionally, as a child I was competitively involved with 4H, a great organization, and the FFA. Those experiences sparked one of my farming loves, my love of Heritage Poultry. Knowing that many of the old breeds were in decline, I founded the Heritage Poultry Conservancy in 2009 www.heritagepoultry.org to raise awareness of the need for genetic diversity in all heritage poultry i.e. chickens, ducks and turkeys.
Did you know that the Alyesbury Duck has amazingly tasty meat and its fat is highly sought after by chefs for cooking? The fat is often called Duck Butter and renders down into the most delicious cooking liquid adding a subtle richness and depth of flavor to whatever you are preparing.
So I'm happy to report that the current cooking show craze has directed some limelight on farmers, and the importance of recognizing the need for getting back the great tastes in the foods that we eat. The best way to do this is to keep more genetic diversity in our food chain. I think that it's safe to say that this trend has gained more traction over the last 10 years having now become a mainstream topic of discussion.
I happen to love to eat, and, therefore, I love good food. I personally enjoy the delicate differences in taste between lettuces, for instance. I grow 12 different varieties – 'Butterhead' is different in taste and texture than 'Butter Crunch' which is totally different from a romaine. I do the same thing with tomatoes and English peas.
So you see farming is a huge part of my every day adult life.
In your own words, what is agriculture?
I suppose agriculture could be summed up as the production of food, whatever forms it takes. It is a complex marriage between science and art.
Agriculture therefore is the science and the art of producing crops, livestock, and poultry.
Farming is also an occupation as well as a desirable quality of life – it cultivates family ties, forms strong bonds with the community and society, has an ethical or moral purpose for the farmer's lives, and as for the farm itself – farmers provide stewardship of their lands and communities.
Why do you think agriculture is important?
Agriculture is the foundation and the cornerstone of civilization. Without a reliable, dependable and safe food system there could never have been the opportunity for any other professions or pursuits to evolve or to even flourish. It seems we have, as a society, forgotten this.
Consecutive generations of my family have farmed this country since before its founding. They were strong-willed (a nice way of saying stubborn), independent and resourceful people. As they carved forest into field and field into crops, these pioneers were at the same time establishing communities as they created their farms.
The importance of community is something that has stayed with me over the years, and when I was in the early stages of planning Moss Mountain Farm, I knew that establishing a sense of community was of an essential component. You see, it is my belief that we must reconnect to and stay connected to our agrarian past.
What is the one thing you want everyone to know about agriculture and farming?
We all need to support farmers and farming. Knowing where my food comes and how it was raised or produced, helps me make informed decisions on what I eat – and therefore impacts my health and well-being. The same can apply to everyone.
You are one of America's most recognizable gardening experts and designers. How has agriculture influenced your life and career choices?
My family has been involved in American agriculture since the 1690s. I personally have fond memories of farm life as a child, and I perpetuate those memories on my own farm today. My first memories of gardening were centered on growing vegetables. I still get excited seeing those first squash seed germinate in the spring to this day!
 So much of agriculture can't be learned in a book.  It requires a "hands-on" approach and regular work in the field to become a successful farmer. Just like with the best gardeners, often the best farmers are those who have farmed the longest. I hope to continue gardening and farming for a long time. Every year I feel that I get a little better at it!