Here's another rice dish from the Miss Arkansas Rice Contest. You can find the first three recipes here, here and here. Miss Stephanie Palmerin Sanchez made some of the best Mexican style rice I have ever had. She calls it Excelenté Arroz. Stephanie served her rice dish with another favorite of mine, molé. I was lucky enough to get Stephanie's mom's molé recipe, but I'm saving that one for a special blog post, so stay tuned!
Did you know the annual Arkansas rice crop contributes more than $1 billion to the state's economy and accounts for thousands of jobs?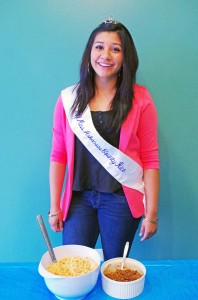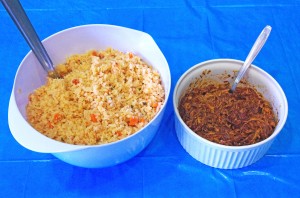 Ingredients
½ cup oil
1 ½ cups uncooked long grain rice
2 carrots, sliced
2 zucchini squash, sliced
4 cups hot water
salt, to taste
2 small tomatoes
½ small union
1 clove garlic
2 tablespoons tomato sauce
Instructions
Blend tomatoes, onion, garlic and tomato sauce until smooth, set aside. Heat oil over medium heat in a large saucepan until hot. Add rice, cook, stirring until rice becomes golden brown.
Drain excess oil. Add carrots and squash. Sauté for approximately two minutes. Add blended ingredients. Add hot water and salt.
Once water begins to boil, turn heat to low and cover. Let simmer for 20 minutes or until rice is fluffy and water is gone.