If you saw my last recipe using edamame, you know I'm crazy about the stuff. I've made it my mission to find new recipes that include edamame, because this is National Soy Foods Month. This Edamame Fried Rice recipe is a winner. The rice is flavorful, full of whole grains and packed with protein from the edamame. I'm always trying to find ways to eat healthy without sacrificing flavor. I will definitely make this recipe again.
Did you know edamame is a variety of vegetable soybeans? Presently, most of the soybeans grown in Arkansas are grain soybeans that are used in processed foods, oils and animal feeds. Vegetable soybeans have a larger seed and smoother texture than grain soybeans.
Ingredients
2 cups brown rice, cooked
1 cup edamame, steamed, drained
1 tablespoon soy sauce
2 teaspoons oil
salt and pepper to taste
Instructions
Combine rice, oil and soy sauce in a frying pan over medium heat.
Heat rice until warmed through, add edamame. Heat for another three or four minutes, stirring constantly.
Add salt and pepper to taste. Serve warm.
Using brown rice, a high quality soy sauce and olive oil makes this recipe much healthier than the fried rice at your local Asian restaurant.
It's really simple. All of your ingredients are already cooked. It's about warming everything through and melding the flavors.
Edamame is such a great green color.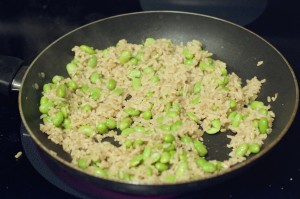 Make sure you stir it around with a spatula, or something that won't damage your skillet. You don't want the rice to start sticking to the bottom of the pan and burning.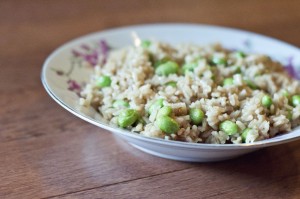 You really have to try this.