The cooler weather always gives me a craving for warm, comforting desserts. This apple tart is one of my favorites. It's easy, light and seasoned to perfection. I love the warmth of cinnamon and nutmeg flavors. If you're looking for something simple and different to make this winter, don't hesitate to try this apple tart.
Did you know the average apple orchard in Arkansas is less than five acres?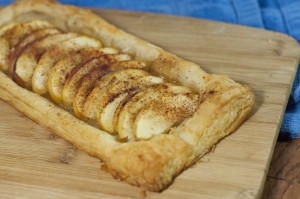 Ingredients
1 whole sheet puffed pastry, cut into half or thirds
4 whole apples, cored, halved and sliced but not peeled
1/4 cup brown sugar, divided
1/4 teaspoon salt, divided
½ teaspoon nutmeg, divided
½ teaspoon cinnamon, divided
Instructions
Preheat oven to 415 degrees. Place puffed pastry rectangles onto a baking pan sprayed with nonstick spray. Arrange apple slices on the pastry rectangles in a straight line, overlapping as you go. Sprinkle with brown sugar and salt. Bake for 18 to 20 minutes or until pastry is puffed and golden brown. Remove from pan immediately and place on a serving platter. Serve plain, with caramel topping, whipped cream or a sprinkling of powdered sugar.