It's lucky for us the French Acadians who settled in south Louisiana lacked the ingredients they needed to make their favorite fish stew, bouillabaisse. Being innovative people, the Cajuns learned to substitute available seafood, game and vegetables for the traditional ingredients of bouillabaisse. The result was a dish that helped make Cajun cookery famous — gumbo.
Most Cajuns agree the secret to a good gumbo is the roux, a mixture of flour and oil that is the foundation of the gumbo. Beyond that, you won't likely find anything else on which Cajun gumbo-cooks agree. Some prefer combinations of shrimp, crabmeat, oysters and fish, while others have found that game, ham, sausage or chicken also can enhance the flavor. Just what seasonings to add stirs up equal controversy.
To be honest, I've never met a gumbo I didn't like, no matter what the ingredients. But this particular recipe, flavored with chunks of Andouille, a coarse-grained smoked sausage made using pork, pepper, onions, wine and seasonings, is one of my all-time favorites. I'm betting it will be one of yours, too.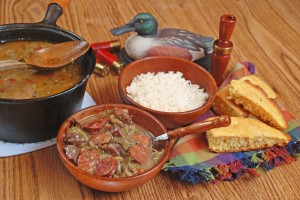 Ingredients
1 cup vegetable oil
Boneless breast fillets from 6 ducks, cubed
1 pound Andouille sausage, sliced 1/4-inch thick
1 cup flour
1-1/2 cups chopped green bell pepper
1-1/2 cups chopped onion
1 cup chopped celery
1 tablespoon minced garlic
1/2 pound sliced okra
2-1/2 quarts water
2 tablespoons salt
2 teaspoons fresh-ground black pepper
1/2 teaspoon cayenne pepper
1/2 teaspoon white pepper
2 teaspoons thyme
5 bay leaves
Cooked long- or medium-grain white rice
Instructions
In a large pot or Dutch oven, heat the vegetable oil, add the duck meat and sausage, and brown. Remove the browned meat to a bowl and reserve.
            Make a roux by sprinkling the flour into the hot oil a little at a time, stirring constantly until all the flour is incorporated. Stir constantly over medium heat until the roux is caramel brown in color. Add the bell pepper, onion, celery, garlic and okra, and cook 10 minutes, stirring constantly. Add 1/2 cup water, and all the seasonings. Mix thoroughly, then gradually add the rest of the water and the reserved meat pieces, still stirring. Bring to a boil, reduce heat, and simmer 2 hours, stirring frequently. Remove the bay leaves. Serve the gumbo hot in bowls over cooked rice. Serves 12 to 16.