Today is Ash Wednesday, the beginning of Lent. During Lent, my Catholic friends abstain from eating meat on Fridays. However, shellfish, saltwater and freshwater fish species are permitted. With Lent in mind, I thought it appropriate to post a fish recipe that everyone can enjoy. I love fish cakes, crab cakes (hmmm . . . make that anything that includes the word cake). This recipe for Down-South Fish Cakes is fantastic. Try it this Friday or any day of the week, and look for another great fish recipe coming soon. Tell us what your favorite fish recipe is.
Did you know 94 percent of all U.S. farm-raised catfish comes from Arkansas, Mississippi, Louisiana and Alabama?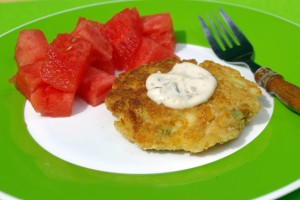 Ingredients
Instant mashed potato granules
1 pound raw fish fillets, finely chopped
2 teaspoons grated onion
1/2 teaspoon salt
1/2 teaspoon Louisiana hot sauce
1 egg, beaten
1/3 cup dried bread crumbs
1 tablespoon vegetable oil
1 tablespoon butter or margarine
Instructions
About 1 hour before serving, prepare instant mashed potato granules as label directs for 1 cup mashed potatoes (or use 1 cup leftover mashed potatoes). Cover and refrigerate until ready to use.
In a medium bowl, stir chopped fish, onion, salt, hot sauce and mashed potatoes until blended. With your hands, shape the fish mixture into four 3-inch-round cakes.
Place the beaten egg in a pie plate and the bread crumbs on a sheet of waxed paper. Dip the fish cakes into the egg, then dredge in bread crumbs.
Heat the vegetable oil and butter in a skillet, and cook the fish cakes until browned on both sides and fish is done, about 8 minutes. Arrange fish cakes on warm platter, and garnish with tartar sauce, lemon wedges and parsley sprigs. Makes 4 servings.