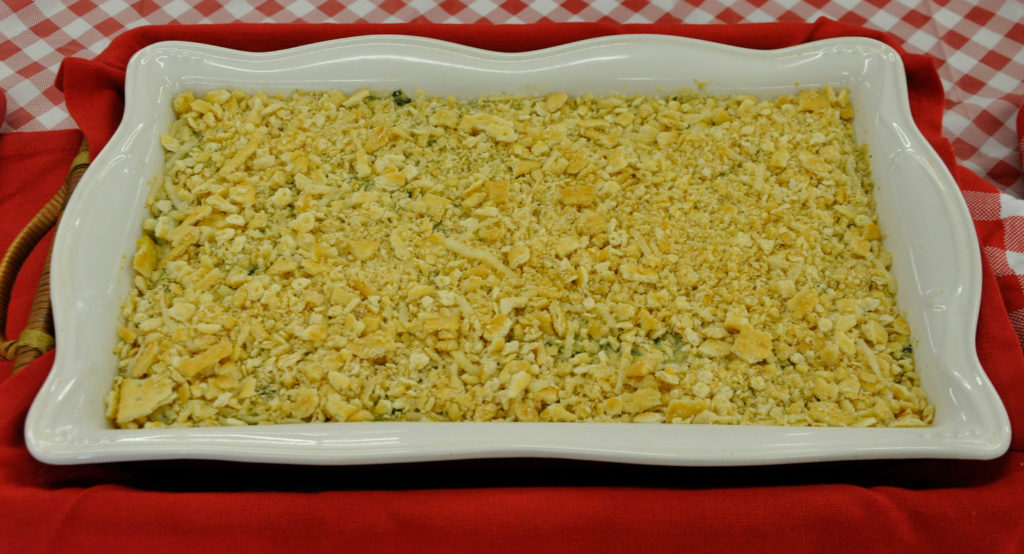 Luke Baker of Siloam Springs (Benton Co.) and Zarah Dean of Ozark (Franklin Co.)  were winners at the 60th annual Arkansas Dairy Foods Contest held May 31 at the state fairgrounds in Little Rock.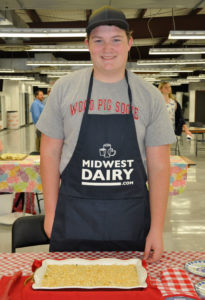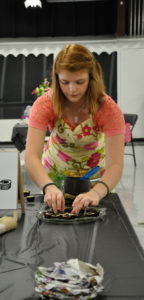 Baker,15, son of James and Sondra Baker, took first place in the Main Dish competition with his "Cheesy Chicken Guacchi Explosion." Dean, 14, daughter of Wes and Melanie Dean, took first in the Party Idea competition with "Cheesecake Bites." Winners received $150 and a cookbook donated by Midwest Dairy.
Contestants were judged on the use of dairy products, originality, availability of ingredients, serving technique and craftsmanship of the dish. Arkansas Farm Bureau sponsored the event. Shortly after the event, Arkansas Governor Asa Hutchinson formally proclaimed June to be Dairy Month in Arkansas.
The winning recipes are:
CHEESY CHICKEN GUACCHI EXPLOSION
 Ingredients:
5 tablespoons unsalted butter
1 teaspoon minced garlic
5 tablespoons all-purpose flour
2 cups whole milk
1 cup chicken broth
1 cup heavy cream
½ cup whole milk ricotta cheese
4 ounces' cream cheese
1 teaspoon ground black pepper
1 teaspoon salt
½ teaspoon ground sage
1 16-ounce package potato gnocchi
1 cup frozen chopped spinach, thawed and drained
1 rotisserie chicken, skin and bones removed, meat shredded
1 cup shredded mozzarella cheese
2 cups shredded Italian style cheese blend
5-ounce container shredded parmesan cheese
1 sleeve Club House crackers, crushed (about 1/3 box)
3 tablespoons unsalted butter, melted
Directions:
Preheat oven to 350 degrees F.
Heat the butter and minced garlic in a large saucepan over medium heat. Add flour and cook, whisking for about 3 minutes until lightly brown. Add milk, chicken broth, heavy cream, ricotta cheese and cream cheese. Simmer, whisking constantly until, slightly thickened. Add black pepper, salt, sage and gnocchi. Cook until gnocchi is tender, about 5 to 8 minutes. Remove from heat. Stir in spinach, chicken, mozzarella cheese and Italian cheese. Mix until well coated and cheeses melt.
Pour mixture into a 9×13 casserole dish coated with non-stick spray. Combine parmesan cheese, crackers and melted butter. Sprinkle over the top of casserole and bake until bubbling and topping is lightly browned about 15 to 20 minutes. Remove from oven and allow to rest about 10 minutes before serving. Dish yields 8 to 10 servings. Refrigerate any leftovers. Casserole may be refrigerated before baking up to 2 days.
*Gnocchi (pronounced No Key) is an Italian potato dumpling that is found in the pasta section of your local grocery store or may be homemade.
*Variations – Substitute cooked ham for the chicken and/or cooked broccoli for the spinach. Your favorite flavor of cheese may also be substituted.
CHEESECAKE BITES
Ingredients
Crust:
2-3 cups crushed vanilla wafers
¼ – ⅓ cup of melted butter
Cheesecake:
2 8-ounce packages cream cheese, softened
1 16-ounce container ricotta cheese
1 ½ cups white sugar
4 eggs
1 tablespoon lemon juice
1 teaspoon vanilla extract
3 tablespoons cornstarch
3 tablespoons flour
½ cup butter, melted and cooled
1 pint sour cream
Ganache:
¼ cup milk
½ cup semi-sweet chocolate chips
Directions
Preheat oven to 350 degrees F.
For crust:
Mix together crushed wafers and butter until the crumbs easily stick together when you press them down with a fork. The mixture should be moist but not very wet. Line mini cupcake pan with mini cupcake liners. Press a teaspoonful of the wafer mixture into the bottom of each mini cupcake liner. Set aside.
For cheesecake:
Mix the cream cheese and ricotta cheese together in a mixing bowl until well combined. Stir in the sugar, eggs, lemon juice, vanilla, cornstarch, flour and butter. Add the sour cream last and stir. Spoon a tablespoon of the cheesecake mixture into each mini cupcake liner.
Bake for 15 mintues. Cool.
For Ganache:
Heat the milk in a small pot over low heat until warm. Remove from the heat and stir in the chocolate chips until melted and smooth. Set aside to cool slightly (mixture should be thick but have a pourable consistency). Spoon a small amount onto each cheesecake.
More Photos