The 2018 Arkansas Dairy Foods Contest in Little Rock was a showcase for delicious dishes created by youth from around the state. June is Dairy Month, so we will be highlighting some of the best recipes from the event for the next four weeks.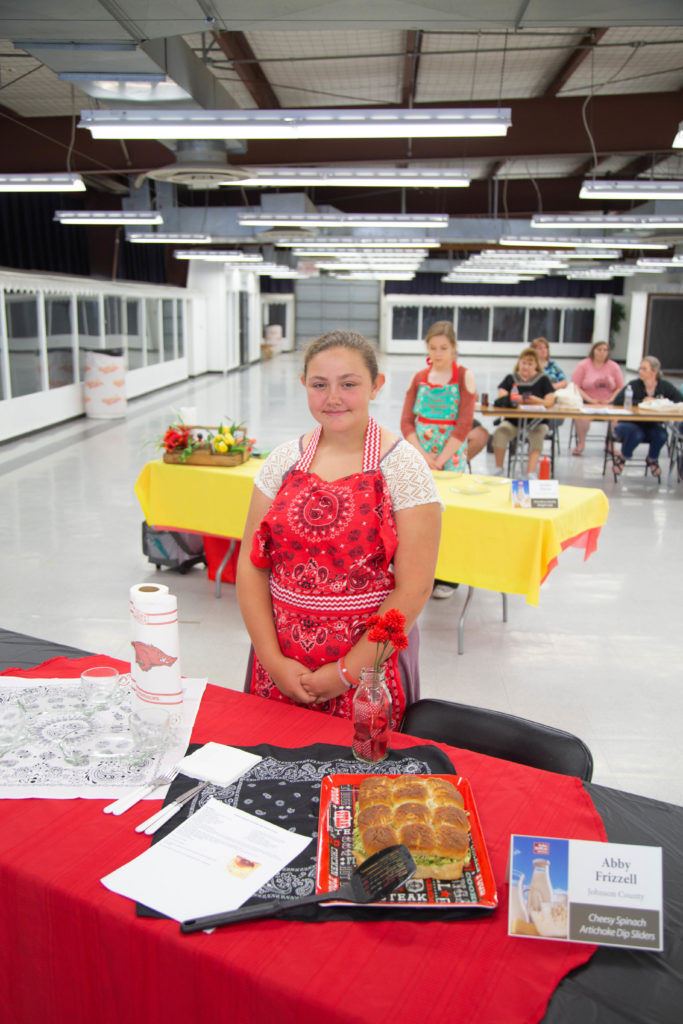 First up is a rich, flavorful recipe for Cheesy Spinach Artichoke Dip Chicken Sliders from 14-year-old Abby Frizzell of Clarksville, who won top honors in the "Main Dishes" category.
Frizzell, who is a member of the Johnson County 4-H, says she began learning how to cook at age 4 by spending time in the kitchen with her grandma. She says her recipe is easy to make and versatile.
"It's a fast and easy dip that is good for a party or a meal, whether it's lunch with friends, a tailgate party or a family potluck." she said.Abby is the daughter of Jeff and Monica Frizzell.
Here she is discussing her unique and tasty treat and her history of cooking:
Cheesy Spinach Artichoke Dip Chicken Sliders
Servings: 12
Ingredients:
1 package King's Hawaiian Sweet Rolls (12 rolls)
3 tablespoons butter
2 cloves garlic, minced
½ teaspoon Italian seasoning
4 ounces cream cheese (softened)
2 tablespoons sour cream
2 tablespoons mayonnaise
¾ cups artichokes (drained and chopped)
½ package ranch dressing seasoning mix
¼ teaspoon salt
¼ teaspoon black pepper
1½ cups fresh spinach (chopped)
1 cup shredded mozzarella cheese
1 pound cooked shredded chicken
Preheat oven to 350 F. In a medium mixing bowl, mix together cream cheese, sour cream and mayonnaise. Add artichokes, spinach, ranch dressing mix, salt and pepper, and ¼ cup mozzarella cheese (reserve the rest for topping). Mix until well combined. Mix in chicken. Slice buns lengthwise. Place the bottom part in a 13" X 9" casserole dish. Spread dip filling over the bottom layer. Sprinkle with remaining cheese. Cover with top bun part. Mix melted butter, garlic and Italian seasoning. Brush buns with melted butter mixture. Bake 20 minutes. Let cool before serving.
Other recipe options: Use pre-cooked rotisserie chicken available from the grocery store for fast and easy meal preparation. Or skip the chicken and serve as vegetarian meal or appetizer.
(Winning recipe from 2018 Arkansas Dairy Foods Contest "Main Dishes" category from Abby Frizzell of Clarksville, Arkansas)