This is the time of year to eat crawfish and there's nothing more delectable than a crawfish etouffee. Most people opt for a crawfish boil. However, I prefer this etouffee recipe, because there isn't nearly as much of a mess at the end. This recipe is simple, savory and satiating. I think the prep for this recipe is the hardest part, there's a lot of chopping to do. However, once you get all of your ingredients ready to go, you'll be surprised how quickly this etouffee comes together.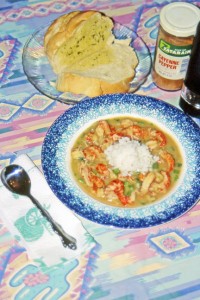 Ingredients:
1/2 cup butter or margarine
1/3 cup plain flour
1 cup chopped onions
1 cup chopped green pepper
1 cup chopped celery
3 cloves garlic, minced
1 pound peeled uncooked crawfish tails
2 cups chicken broth
1/3 cup chopped fresh parsley
2 teaspoons salt
1 teaspoon fresh-ground black pepper
1/4 teaspoon cayenne pepper
Cooked rice
Directions:
1. Melt butter in a large heavy pot. Add flour, and stir over medium-low heat until roux is caramel-colored (20 to 30 minutes). Stir constantly.
2. Add onion, green pepper, celery and garlic. Cook until tender-crisp, 3 to 4 minutes. Stir in remaining ingredients and simmer 20 minutes. Serve over cooked rice.