Ahhhh…St. Patrick's Day…celebrated on March 17th every year.  This is a great day to down an Irish beverage and relish in your ancestry (even if you don't have a lick of Irish in your family).  And, make sure you grab your lucky clover! Although used as a teaching tool about the Holy Trinity, the three-leaf clover is a traditional symbol of luck with the finder even more lucky when it's a rare four-leaf clover. But you're never luckier than when cooking corned beef.  Corned beef is a traditional dish of beef brisket, water, salt and spices.  It's readily available at your grocery store, so it's easier than ever to get your 'Blarney On' for the greenest of green holidays, St. Patrick's Day! For more great recipes, including more corned beef dishes, visit www.beefitswhatsfordinner.com.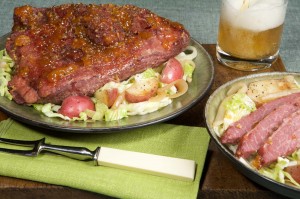 Ingredients
1 boneless corned beef brisket (2-1/2 to 3-1/2 pounds)
¼ cup apricot preserves
1 tablespoon red wine vinegar
1 clove garlic, minced
¼ teaspoon coarse ground black pepper
Instructions
Place corned beef brisket in dutch oven; add water to cover. Bring to just a simmer; do not boil. Cover tightly and simmer 2 ½ to 3 ½ hours or until fork-tender.
Combine the remaining ingredients in a microwave safe bowl and microwave on high for two to three minutes. Stir it once.
Remove brisket from water; trim fat. Place on rack in broiler pan so surface of beef is three to four inches from the heat. Brush top of brisket with glaze and broil for two or three minutes until glazed. Carve diagonally across grain.