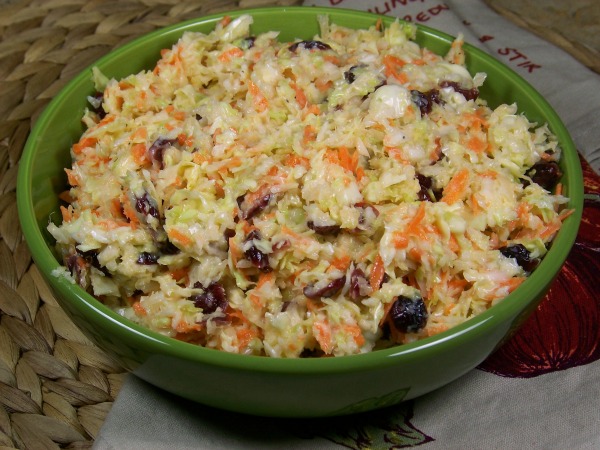 Taking center stage in gardens and farmers markets this month are beautiful heads of cabbage. If you grow it yourself and set the young plants in February, you can taste some home-grown cabbage goodness now as cabbage is one of the first crops we harvest in the spring.
Cabbage is a nutritional powerhouse, rich in anti-oxidant vitamins and a compound called indole-3-carbinol, which is thought to both inhibit and cleanse carcinogens, thus making cabbage a potent detoxification food. It's also low in calories and high in fiber which is good for our waistlines.
A cabbage dish that is a staple on most Southern tables is a colorful bowl of slaw. A healthy combination of cabbage and your favorite add-ins create a tasty side dish that packs a bit of crunch. And the best part? No cooking required.
Here's a great recipe that includes dried cranberries for a touch of color and added nutrition.
COLORFUL SLAW WITH DRIED CRANBERRIES
Prep Time: 20 minutes
Servings: 6-8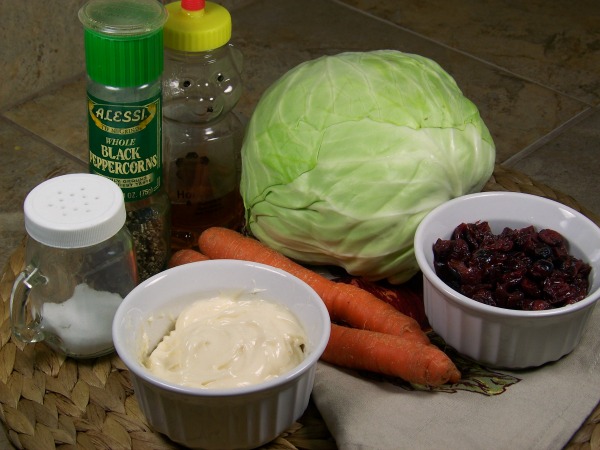 Ingredients
• 1 cup dried cranberries
• ½ cup water
• 1 medium head of cabbage
• 2-3 medium carrots
• 1 cup mayonnaise OR salad dressing
• 1 tablespoon red wine vinegar
• 1-2 tablespoons honey
• Salt and pepper to taste
Instructions
1. Place dried cranberries in a microwave safe measuring cup.
2. Add ½ cup water to cranberries and microwave for 30 seconds. (This plumps the dried cranberries.)
3. Allow cranberries to soak in water while grating cabbage and carrots.
4. Peel carrots and grate.
5. Grate cabbage and add to grated carrots.
6. Drain cranberries and rinse with cold water.
7. Add cranberries to grated cabbage and carrots.
8. In a small bowl, mix mayonnaise, red wine vinegar and honey.
9. Pour into cabbage mixture and stir until completely mixed.
10. Salt and pepper to taste.
11. Refrigerate until ready to serve.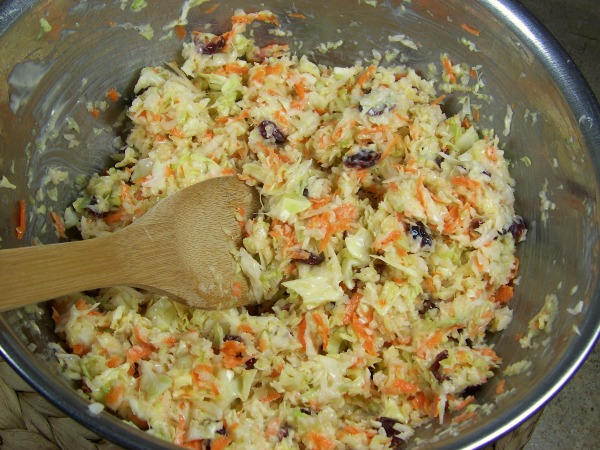 Nutritional Information:
Calories: 235
Calories from fat: 119
Carbohydrates: 28.6 grams
Sodium: 327 milligrams
Arkansas Women Bloggers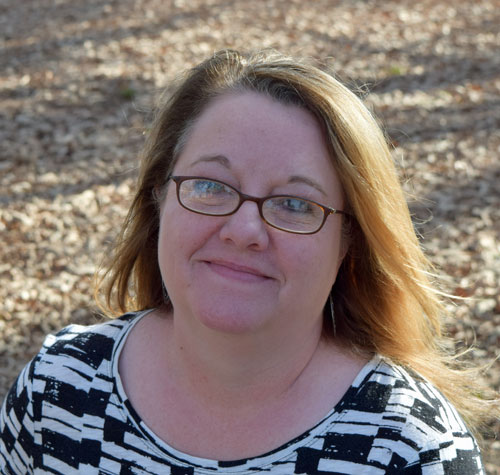 member Mary Wood is a lifetime lover of words. She hails from the suburbs of Nimrod, Arkansas where she is co-owner and number one stacker of wood in her family's sawmill. She loves playing in the dirt and raising a zoo-load of animals on their family farm. Her passions include living life with her husband Steve, son Caleb and all-grown-up daughters Rebecca and Rachel and son-in-law Matt. Homeschooling, writing women's Bible studies, and renovating their home fill up the remainder of her time. She blogs at Run of the Mill Mary.